Uncategorized |

April 21, 2014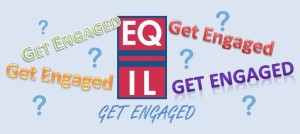 CONTEST: Take the EQIL logo, add the theme "Get Engaged," and design a logo for the Equality Illinois "Get Engaged" campaign!
Put your creative juices to work. The deadline is Friday, April 25.
Help Equality Illinois GET ENGAGED in the next phase of LGBT advocacy. The work of securing full equality for LGBT people is far from over. We want people to Get Engaged with Equality Illinois, Get Engaged with LGBT issues, Get Engaged with the community, and, of course, if you like, you can now Get Engaged to be married.