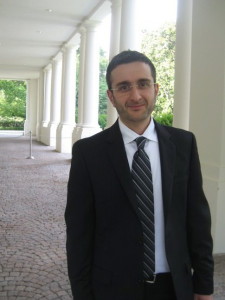 Bernard Cherkasov is the Chief Executive Officer of Equality Illinois, the state's oldest and largest organization advocating full equality for lesbian, gay, bisexual, and transgender (LGBT) people. Bernard manages the operations and strategic development of the organization, as well as its educational affiliate and political action committee.  He joined Equality Illinois in 2009.
Under Bernard's leadership, Equality Illinois has developed and implemented new strategies to engage public officials and political leaders, to partner with major corporations and law firms, to strengthen relationships with religious leadership and communities of faith, and to engage the community at large.  Since 2009, Equality Illinois has grown to become the nation's third largest state equality organization, with double the employees and over 30% stronger budget.
Bernard is an attorney by training.  His experience includes negotiating with governmental authorities and elected officials on behalf of public corporations, arguing before the U.S. Court of Appeals for the 7th Circuit, as well as assisting a wide range of clients with their legal needs.  Prior to that, Bernard served at the Supreme Court of Israel as the International Law Clerk to Chief Justice Aharon Barak.  He is admitted to the bars of the Supreme Court of Illinois, the U.S. Court of Appeals for the Seventh Circuit, and the U.S. District Court for Northern District of Illinois.
Bernard's public policy and advocacy background includes planning political advocacy and engagement strategies for Jewish community organizations in Washington, DC, analyzing hates crimes response effectiveness for the Anti-Defamation League, and participating in the strategic messaging and communications group at the American Civil Liberties Union's National Office.
Bernard is also deeply involved in his community.  Currently, he served on the Board of Directors of AIDS Legal Council of Chicago, where he had been twice elected President and on the Board of Equality Federation.  While living in Ann Arbor, Michigan, Bernard was appointed by the Mayor to serve on the City's CDBG Executive Committee.
Bernard has been honored with the Belfield Bates Award for public service, the Spitzer Fellowship in Public Policy, and the Public Interest Service Fellowship.
Bernard earned his Juris Doctorate from University of Michigan and his Master's degree, with the focus on the relationship of public policy, theology and law, from Harvard University.