Legislative Update #1 – Election Code Bill
June 22, 2021
As we celebrate the resilience and resistance of LGBTQ Illinoisans during Pride Month, we know there is significant work left to do in the fight for true lived equality in Illinois. To that point and at a time of severe hostility against LGBTQ people in state houses across the country, Equality Illinois will highlight six bills we led or co-led on that passed the Illinois General Assembly this spring.
Let's start with data collection and reporting, critical elements to help Illinois confront the disparities and challenges the LGBTQ community continues to experience. To effectively address health and social service disparities in Illinois, state agencies need to routinely and securely collect and report out on demographic data on individuals who access healthcare services and government programs. That's why a task force of LGBTQ-affirming organizations advocated for Senate Bill 2133, the Demographic Data Collection Bill.
Under SB 2133, 10 state agencies would be required to report out on the age, sex, disability status, sexual orientation, gender identity, and primary/preferred language demographic data of individuals who utilize major services administered by state government. SB 2133 builds upon the existing requirement in state law that state agencies report out on racial and ethnic demographic data.
We are proud to advocate with Howard Brown Health, AIDS Foundation Chicago, Pride Action Tank, SAGE, Center on Halsted, and Northwestern University's Evaluation, Data Integration, and Technical Assistance Program for SB 2133. We thank our legislative champions – Illinois House Majority Leader Greg Harris and State Senator Mike Simmons – for their leadership in the Illinois House and Senate. We look forward to Governor Pritzker signing the bill and working with state agencies to implement the law over the coming years.
With this routine data collection and reporting, we can identify disparities and craft policy solutions to solve problems facing LGBTQ Illinoisans.
Let's do it!
Legislative Update #2 – Election Code Bill
June 23, 2021
At Equality Illinois, LGBTQ representation matters, especially in public service. That's why, in 2021, we led on an initiative to support trans Illinoisans who want to lend their talents and ideas to public service and run for elected office.
Candidates like Kristal Larson (She/Her). Earlier this year, she ran for township clerk in Lake County. A trans woman, Larson had to publish her current legal name and deadname on her petitions and on the ballot. Larson said: "I can tell you from personal experience that having a door slammed in your face while being yelled at for becoming your authentic self is traumatic enough the first time it happens. I will spare you the actual words…but I personally experienced this many times last year while collecting signatures, in some cases with a very real and tangible fear of their next possible action. Adding to that trauma is having a name, a 'deadname' as we call it, prominently featured on the petition itself. That name is often a painful reminder of our lives lived in hiding, in denial and opposition to our authentic selves. It is a constant reminder that is self-defeating rather than self-affirming."
Under previous law in the Illinois Election Code, a candidate for office in Illinois had to publish both their current legal name and former legal name on the ballot and their nominating petitions if they changed their name within three years of running for office. That requirement was particularly harmful to trans candidates, who had to publish their deadname on the ballot and petitions and out themselves in order to seek public service.
Now, under SB 825 signed by Governor Pritzker last week, a candidate who changed their legal name to conform with their gender identity will no longer have to publish their deadname on the ballot and on nominating petitions. SB 825 also adds an exemption for a name change because of a civil union. These changes join the existing exemptions in the Election Code for name changes because of marriage, divorce, or adoption.
With SB 825, trans Illinoisans can lend their talents to public service and run for office without having to publish their deadnames on the ballot. We thank Governor Pritzker, House Speaker Emanuel "Chris" Welch, Senate President Don Harmon, Rep. Maurice A. West II, Rep. Kelly M. Burke, and Rep. Daniel Didech for removing this barrier for trans Illinoisans who pursue public service.
Legislative Update #3 – Corporate Boards Bill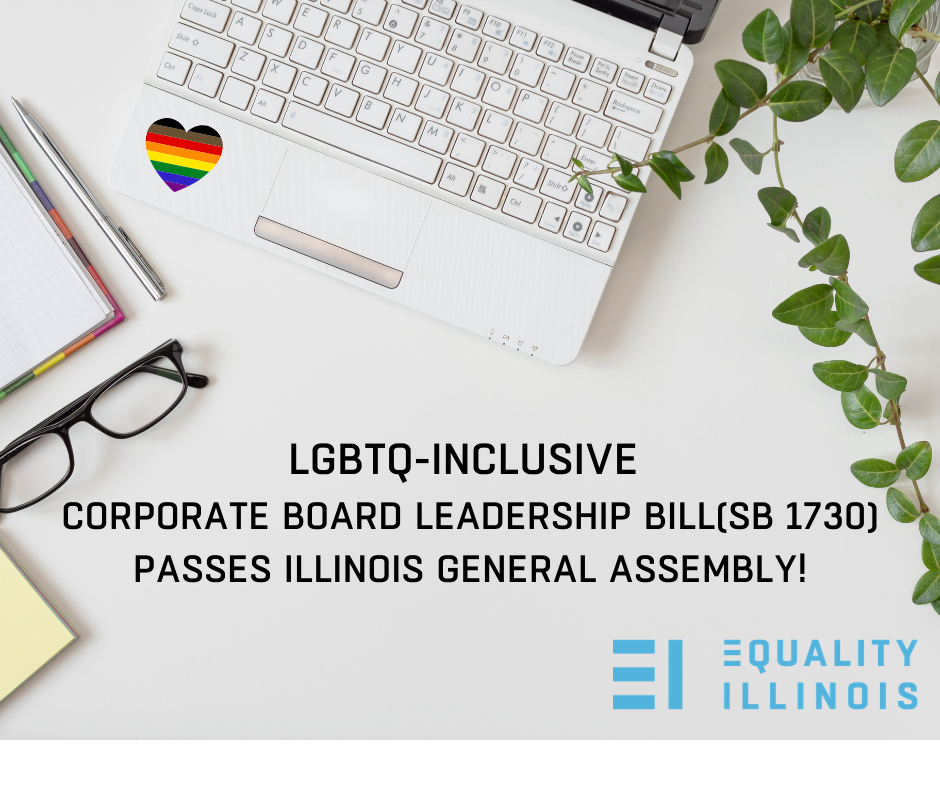 June 2021
During Pride Month, we see so many corporations promoting LGBTQ inclusion to consumers. Yet, national data shows a stark lack of LGBTQ inclusion among top corporate leaders. According to Out Leadership, only 25 seats of the 5,670 board seats in the Fortune 500 companies are held by out LGBTQ+ people – and some of those seats are held by the same individuals. That's 0.4% representation among 5,670 seats. 
Thanks to a new legislative initiative, Equality Illinois can help corporations in Illinois do better.
This year, Equality Illinois initiated SB 1730 to advance diversity, equity, and inclusion on corporate boards of directors. State law already requires corporations based in Illinois to annually report out on the race, ethnicity, and gender of their boards of directors. SB 1730 would add self-identified gender identity and sexual orientation to the existing annual reporting requirement. With this annual data, LGBTQ community stakeholders would be able to support those corporate leaders who want to identify and elevate qualified LGBTQ people to serve on their leadership boards.
Due to a history of stigmatization and discrimination and being forced to hide our authentic selves in workplaces and in roles of public service, LGBTQ people have been denied space at tables of power. This robs us of the opportunity to lend our strengths and talents to businesses. We also know how diverse leadership can foster workplace cultures of inclusion and advance affirming policies for workers throughout an organization or business. SB 1730 will be an important tool to advance and ensure diversity, equity, and inclusion in businesses in Illinois.
Thanks to Illinois Senate Deputy Majority Leader Emil Jones III and State Rep. Daniel Didech and the support of the LGBT Chamber of Commerce of Illinois, SB 1730 passed the Illinois Senate 37-18 and the Illinois House of Representatives 69-43. We look forward to Governor Pritzker signing this initiative. 
Together, we can cultivate LGBTQ inclusive workplaces and leadership in the highest positions of corporate America.
Legislative Update #4 – HIV Decriminalization Bill
June 2021
Forty years ago this month, the first cases of AIDS were reported. While HIV/AIDS medical care and treatment have come a long way since June 1981, discrimination, disparities, and stigma against people living with HIV continue to this day. In Illinois, one way that stigma manifests itself is through the state's harmful and discriminatory HIV criminalization law.
Now, Illinois is poised to be just the second state in the country to get rid of its HIV criminalization law. HB 1063 – the bill to decriminalize HIV in Illinois – is on the Governor's desk after passing the Illinois General Assembly with bipartisan support.
Passed in more than 30 states, HIV criminalization laws are rooted in homophobia, racism, and transphobia. But with HB 1063, Illinois will lead on HIV prevention and treatment through proven, effective public health strategies – not fear, discrimination, and criminalization.
HB 1063 wouldn't have happened without the witness and advocacy of people living with HIV as well as the Illinois HIV Action Alliance and the bill's legislative champions, State Sen. Robert Peters and State Rep. Carol Ammons. We are honored to be part of the Illinois HIV Action Alliance alongside such champions as AIDS Foundation Chicago, ACLU of Illinois, Howard Brown Health, Lambda Legal, the Illinois Public Health Association, and many more amazing organizations that support people living with HIV.
We look forward to Gov. Pritzker signing HB 1063 and contributing to Illinois' effort to get to zero new HIV infections by 2030.
Legislative Update #5
June 2021
Last autumn, Kathy Flores, the Director of the Anti-Violence Program at Wisconsin-based Diverse and Resilient, reached out to Elizabeth Ricks from Chicago House and Social Service Agency and me to talk about her marriage certificate. Married in Cook County in 2014, Kathy told us a story of love, marriage, and family. She told us how, after the marriage, her partner, Zephyr, transitioned. Zephyr was able to change their legal name and update all of their identity documents – except the legal name on their Cook County marriage certificate.
Kathy and Zephyr are one of several married couples in Illinois who have experienced barriers to changing a legal name on their marriage certificate.  In 2019 and 2020, the TransLife Care Program at Chicago House and Equality Illinois were contacted by several individuals who encountered roadblocks from county clerks to changing their legal names on their marriage certificates – despite the individuals already having legal name change orders. County clerks offered varying standards for how to change a legal name on a marriage certificate. The situation called out for a uniform statutory standard for name changes on marriage certificates.
This year, thanks to the personal advocacy of community members like Kathy, Chicago House and Equality Illinois proposed state legislation that will provide certainty for individuals requesting that their Illinois marriage certificates reflect a legal name change. With HB 2590, a county clerk must issue a new marriage certificate with the new legal name on it if one of the parties to the marriage shows a legal name change order. This standard in HB 2590 is the same standard for making legal name changes on birth certificates, passports, and driver's licenses. Thanks to the leadership of State Sen. Sara Feigenholtz and State Rep. Ann Williams, HB 2590 passed the Illinois General Assembly with bipartisan support and is now on Governor Pritzker's desk.
Why does HB 2590 matter? Kathy told legislators: "I am a cancer and aneurysm survivor and currently live with Multiple Sclerosis and other autoimmune diseases. I would hate to have my partner have to deal with the pain and trauma of having to prove they are my partner at a time they will be grieving me. And if they die first, I also do not want to be having to sift through red tape all because the name of my partner's legal documents are one thing and the marriage license is another. At a time where we should be treated with dignity and respect, we fear we'll be once again treated with scorn and rejection. That is why we advocated for HB 2590."