The Statewide Network is the primary tool we use to organize and build civic engagement power in communities across Illinois that is both consistent and responsive.  By consistent, we mean that no matter what is happening in the world around us, LGBTQ+ people are always growing and demonstrating their power.  By responsive, we mean that the LGBTQ+ community is acting in the moment to take advantage of unprecedented opportunities or fighting back against unforeseen attacks on our community.
While there are many ways to exercise civic power, the primary aim of the Statewide Network is to organize diverse LGBTQ+ community leaders throughout the state to build collective power and to educate and influence public leaders to promote positive decision making for the LGBTQ+ community.
Equality Illinois provides small grants, training, and capacity building support to LGBTQ+-led organizations engaged in the Statewide Network.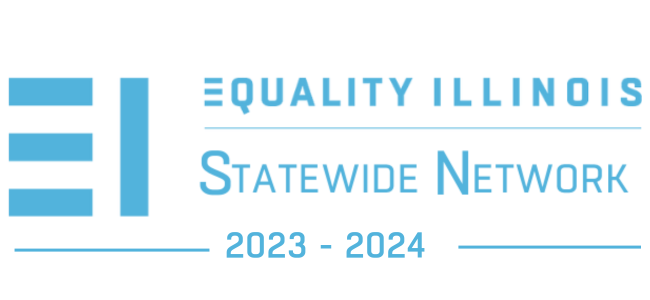 Prairie Pride Coalition, established in 1995, is the local LGBTQ+ community organization serving Bloomington, Normal, and the McLean County regions of central Illinois. We seek to establish a more just, inclusive, welcoming, and safe environment for LGBTQ+ people through education, awareness, community outreach, coalition building, and support of legislation that positively impacts our community.
Peoria Proud is excited to be a Statewide Network partner for the 3rd year running.  Peoria members include allies and members of the LGTQ community here in Central Illinois, both individuals and organizations.  Participating organizations include The Affirming Faith Communities of Peoria, PFLAG Peoria Chapter, NAACP, DCFS, Acorn Equality Fund, Central Illinois FRIENDS, and the Peoria Transgender Society.
ALMA's
SWN Coalition
Day: TBA
Time: TBA