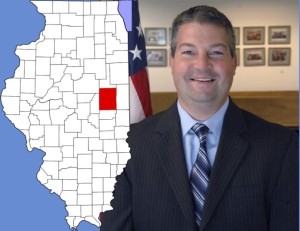 Champaign County Clerk Gordy Hulten (pictured left) today became the second county clerk in Illinois to issue marriage licenses to all loving, committed couples. Equality Illinois is challenging other clerks throughout the state to do the same.
Clerk Hulten said his Central Illinois constituents should enjoy the constitutional right of the freedom to marry that was enunciated on Friday by a federal judge in Chicago when she ordered same-sex marriages to begin in Cook County.
It is also significant that the licenses are now available in a Central Illinois county, which is within easy driving distance of not only Champaign-Urbana but also Peoria, Decatur, Springfield, Bloomington-Normal and Danville for couples and their families.