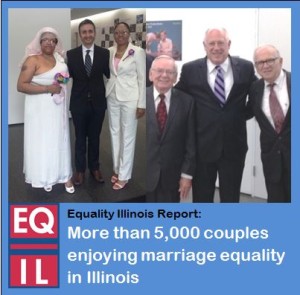 Breaking News from an Equality Illinois Report: More Than 5,000 Couples Enjoying Marriage Equality in Illinois
Couples united in new marriages, by civil union conversions and by marriages in other jurisdictions recognized in Illinois are enjoying the benefits of Illinois Religious Freedom and Marriage Fairness Act.
"Some politicians cannot state that they will defend marriage equality and the rights of the couples and their children. It is important to note that such opposition translates into saying they cannot be counted on to stand up to defend these 5,000 families from discrimination," said Bernard Cherkasov, CEO of Equality Illinois.