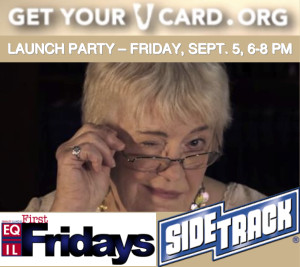 Join Equality Illinois at this First Friday for the launch party for the Get Your V Card campaign for voter registration.
The campaign includes an Equality Illinois ad on YouTube that the chicagoist blog says is "the cheekiest voter registration ad ever." The Huffington Post takes it a step further, saying, "The ad's porn-tastic soundtrack certainly goes a long way toward spicing it up." In the ad, polling place clerks Doris and Betty deploy their best come hither looks to welcome the new voters, who happen to be two handsome young men carrying their V Cards – voter registration cards.
So come to Sidetrack this Friday, Sept. 5, for a launch party for the V Card ad and the voter registration drive, at 6-8 PM at Sidetrack Video Bar, 3349 N. Halsted St., Chicago and featuring some of the volunteer stars of the commercial and the usual First Friday fun.