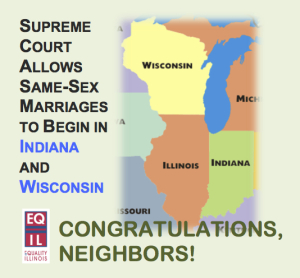 VICTORY! Congratulations to our neighboring Midwestern states of Indiana and Wisconsin from your friends in Illinois, another MARRIAGE EQUALITY STATE.
Same-sex marriages should begin shortly in Indiana and Wisconsin, as well as in Oklahoma, Utah and Virginia, after the U.S. Supreme Court refused to hear appeals of cases that overturned bans on the freedom to marry for same-sex couples.
Other states under the jurisdiction of appeals courts that have struck down the bans will also be affected by the Supreme Court's decision, meaning the number of states with gay marriage is likely to quickly jump from 19 to 30, plus Washington, DC. Those states include Colorado, Kansas, North Carolina, South Carolina, West Virginia and Wyoming.