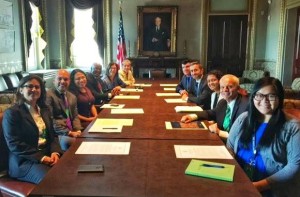 An Equality Illinois delegation of movement stakeholders and LGBT community members spent Sept. 17 in Washington for meetings at the White House and on Capitol Hill to discuss a broad federal agenda of importance to lesbian, gay, bisexual and transgender Illinoisans, our families and allies.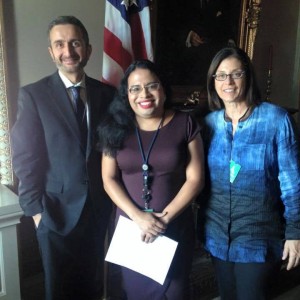 First stop was at the White House complex, where the delegation met with Obama administration officials, including Matt Nosanchuk, Director of the White House Office of public engagement, Regina Waugh, Human Rights and Gender Director at the National Security Council, Raffi Freedman-Gurspan, Constituency Director in the Presidential Personnel Office, and Aditi Harkikar, Associate Director of the White House Office of Public Engagement. The topics included international affairs, global LGBT rights, and President Obama's human rights agenda.
The delegation was particularly proud to meet with Raffi Freedman-Gurspan, the first out transgender staff member at the White House.
Then, it was on to Capitol Hill and meetings at the House of Representatives. The EQIL delegation met with many Illinois House Democrats, including Rep. Cheri Bustos, Rep. Robin Kelly, Rep. Jan Schakowsky, Rep. Luis V. Gutierrez and Rep. Mike Quigley, and they brought along a special guest, Rep. David Cicilline, of Rhode Island, chief sponsor of the Equality Act, which would create federal non-discrimination protections for LGBT Americans.
The delegation also met with Rep. Bob Dold, an Illinois Republican, to encourage him to become a cosponsor of the Equality Act.
Other topics during the discussions on Capitol Hill included pushing for the defeat of religious refusal bills, the end to the FDA's blood donation ban against gays, improvement of healthcare and housing access, protection for LGBT students from bullying and harassment, and a ban on dangerous, discredited conversion therapy nationwide.
The final stop on the Equality Illinois Day in Washington was with Sen. Mark Kirk to discuss the Equality Act and the Student Non-Discrimination Act, for which he is the only GOP co-sponsor in the Senate.