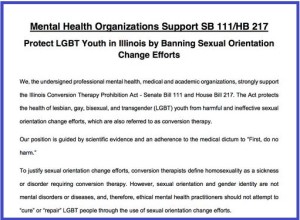 A letter from mental health, medical and academic organizations in Illinois strongly supporting the Illinois Conversion Therapy Prohibition Act is a significant statement that explains the dangers of harmful and ineffective efforts to force LGBT youth to change their sexual orientation or gender identity.
Equality Illinois, the state's largest advocate for lesbian, gay, bisexual and transgender Illinoisans, calls on the Illinois General Assembly and Gov. Bruce Rauner to heed the experts.
"The experts have spoken. LGBT youth are endangered by attempts to change who they are. Lawmakers must pass the bill, and the governor must sign it," said Bernard Cherkasov, CEO of Equality Illinois.