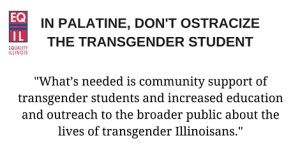 The legal situation in Township High School District 211 regarding a transgender student's equal right to access the school locker room that corresponds to her gender identity offers an opportunity for awareness and education about transgender people and the significant challenges and discrimination they encounter in life.
The school district said it would allow the transgender student access to the girls locker room because she has represented that she will change in curtained changing stations. The district had initially proposed requiring the transgender student to use curtained privacy areas while allowing the other female students the option to use such spaces. We know from American history that separate is not equal.
The only fair and equal option is to ensure transgender students have access, without conditions, to the locker room that corresponds to their gender identity. To do otherwise would send the message to transgender students that they are not respected and valued by the very administrators who are responsible for fostering a safe and welcoming space for learning and development.