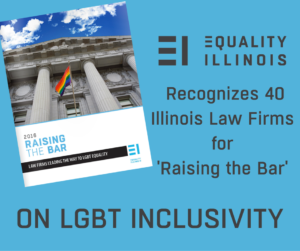 Forty Illinois law firms that lead the way in providing a welcoming and fair work environment for LGBT employees and engaging with the LGBT community are being recognized by Equality Illinois for "Raising the Bar" in 2016.
In a growing and welcoming trend that helps spread fair and equal treatment, the annual Equality Illinois Law Firm Survey found that not only are the law firms creating affirming work spaces for their own employees, but they are increasingly demanding that the same respect be demonstrated by the vendors and contractors with whom they work.
"Law firms–as institutions that make the practice of law their business–play a particularly salient role in advancing LGBT equality. When law firms not only fight for equality and inclusiveness, but mirror the world they hope to see within their own offices, they send a powerful message about the importance of fully embracing all coworkers and staff equally," said Brian C. Johnson, CEO of Equality Illinois.