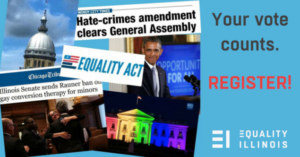 This is the final stretch until voting begins in the all-important 2016 election for president, U.S. Senate, Congress, the Illinois General Assembly and other races. Are you ready?
Passage of the state ban on conversion therapy. The end of "don't ask, don't tell" in the military. The Obama Administration executive order banning LGBT discrimination by federal contractors. These laws and policies were made possible only because people like you registered and voted for officials who support LGBT rights.
Check out our Voter Registration Guide to learn how you can take care of your registration needs in a manner of minutes online, through the mail or in person at voter registration events at the Center on Halsted.
Election Day is Nov. 8, but early voting begins in Illinois on Sept. 29. Your vote counts!