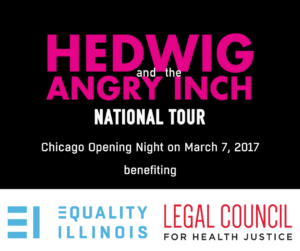 Please join Equality Illinois and the Legal Council for Health Justice for the first night of HEDWIG AND THE ANGRY INCH in Chicago on March 7!
Tickets are limited and are nonrefundable. For those who purchase Premium Orchestra VIP and Orchestra VIP tickets, you also receive access to a cocktail reception. Your ticket purchase directly benefits Equality Illinois and Legal Council for Health Justice.
This Tony-winning, genre-bending, fourth-wall-smashing musical sensation, with a pulsing score and electrifying performances, tells the story of one of the most unique characters to ever hit the stage. It's about finding your other half; it's the story of the origin of love.