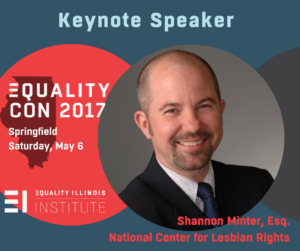 Shannon Minter, the Legal Director of The National Center for Lesbian Rights (NCLR), one of the nation's leading advocacy organizations for LGBTQ people, is the keynote speaker for EqualityCon 2017, hosted by Equality Illinois Institute.
Minter was lead counsel for some of the plaintiff same-sex couples in the 2008 landmark California marriage equality case which held that same-sex couples have the fundamental right to marry and that laws that discriminate based on sexual orientation are inherently discriminatory and subject to the highest level of constitutional scrutiny. In 2015, he served as counsel for married same-sex couples from Tennessee in the Obergefell v. Hodges case that resulted in the Supreme Court decision recognizing marriage equality as a national right.
Hear Minter and many other interesting speakers and topics at EqualityCon 2017 on Saturday, May 6 in Springfield.