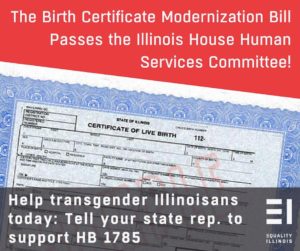 The bill to modernize the Illinois birth certificate law passed the Illinois House Human Services Committee Wednesday morning by a 7-4 vote.
Thank you to Rep. Greg Harris, and Equality Illinois' coalition partners the ACLU of Illinois, Illinois Safe Schools Alliance, AIDS Foundation of Chicago, Howard Brown Health, and Lambda Legal.
And a special thank you to the amazing and brave witnesses for sharing their experiences with the committee. The bill will help transgender and gender non-conforming Illinoisans have correct birth certificates,
Call your state representative today and tell them to support HB 1785.