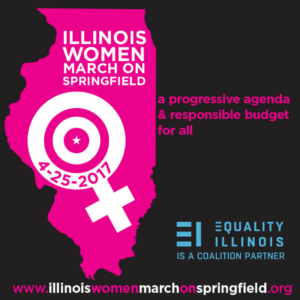 On Tuesday, April 25, thousands of people, including LGBTQ Illinoisans, will come together as Illinois Women March on Springfield and take action for civil rights and a responsible budget. Equality Illinois is proud to be a coalition partner for this inspiring and impactful event. Please join us!
We will rally and lobby for legislative initiatives and budget priorities that affirm all Illinoisans, including LGBTQ people, people of color, women, immigrants, refugees, and people with disabilities.
Surrounded by pro-fairness allies from across the state, April 25 will be a great opportunity to talk with legislators about important progressive initiatives such as the birth certificate modernization bill (HB 1785), the LGBTQ panic defense ban (SB 1761), the Immigration Safe Zones Act (HB 426), and legislation protecting access to safe and legal reproductive healthcare in Illinois (HB 40).