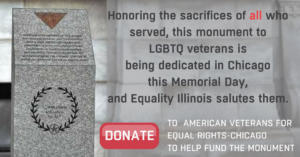 On Memorial Day, Equality Illinois remembers all who served our nation and made the ultimate sacrifice.
A monument honoring LGBTQ veterans is being dedicated today at 1pm at Halsted and Addison streets in Chicago.
The local chapter of American Veterans for Equal Rights (AVER Chicago Chapter) is behind the effort, but it is several thousand dollars short. You can participate by contributing through its GoFundMe page.
"LGBTQ Americans have played a vital part in making our country the free, democratic and vibrant place it is today. Far too often, the acknowledgment that many of our heroes in American history and society identify as a member of the LGBTQ community has been hidden from us and the general public," Brian C. Johnson, CEO of Equality Illinois.