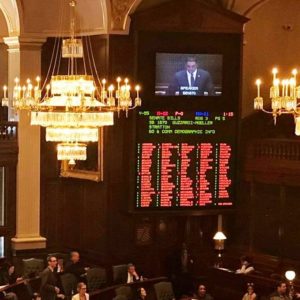 Our LGBTQ Public Service Bill passed the Illinois House on a bipartisan 95-12 vote Wednesday afternoon. The next step is the Governor's Desk, and we are calling on Gov. Bruce Rauner to sign the measure.
Thank you to state Rep. Will Guzzardi and state Sen. Scott Bennett for their leadership.
The legislation (SB 1670), one of Equality Illinois' priorities during this session of the General Assembly, allows a person to voluntarily self-identify as LGBTQ when they apply for a spot on a state board or commission. Applicants already self-identify their ethnicity, gender, and disability status. The new data will be included in an existing annual report compiled by the Governor's Office.
SB 1670 is all about data and leadership. The bill helps policymakers gather the necessary information to know whether Illinoisans of all backgrounds are inspired to lend their strengths and talents to the service of our state.