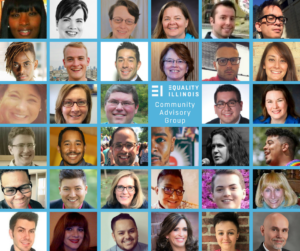 The Equality Illinois Community Advisory Group is beginning its second year of work, now 35 members strong, including LGBTQ individuals and allies from across the state who engage with us in the policy development and agenda building necessary to secure and advance LGBTQ equality, social justice, and intersectional action in Illinois.
Members come from all corners of Illinois–Carbondale to Chicago, Rock Island to Charleston–and from a wonderful diversity of backgrounds and experiences.
Over the last year, the group helped us advocate for our successful legislative agenda. Community members appeared in the media, testified in Springfield, and advocated in their communities for LGBTQ issues. We appreciate their service.