Thank you for being a part of the Equality Illinois family and joining us at the Equality Illinois 2017 Gala on February 4 at the Hilton Chicago. Your participation helped us raise the funds we need to educate and advocate on behalf of LGBTQ Illinoisans throughout the year. The links below will help you relive the experience through flipping through the gala program and looking at the pictures and videos.
GALA PROGRAM
Learn about the sponsors, the honorees, the speakers, and the many contributors in the Equality Illinois 2017 Gala Program.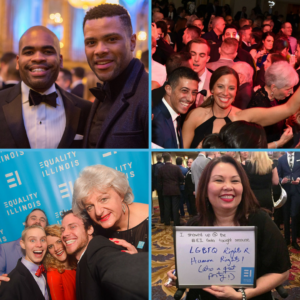 DOWNLOAD YOUR OWN GALA MEMORIES Wonderful photographers donated their time and talent to shoot hundreds of pictures at the Equality Illinois 2017 Gala. View these galleries to relive the experience and see pictures of yourself and of your friends and VIPs enjoying the biggest formal LGBTQ party in the Midwest. Some of the galleries are free to download, while others charge a nominal fee.
---
GALA VIDEOS SHARE THE IMPACT OF THE EVENING
Videos of the call to action by Equality Illinois CEO Brian C. Johnson, powerful testimonials from three people who benefited from the work of Equality Illinois, and the presentation of the awards to our honorees can also be seen on our YouTube channel.
Testimonial by Malary Gregory discussing the importance of the passage of the Chicago Equal Access Ordinance so transgender men and women can use bathrooms in the city without being forced to show an ID
Testimonial by Veronica Noland, a member of the Elgin school board, who reported how Equality Illinois helped her protect the district's transgender-friendly policies
Testimonial by Dr. Carl Alaimo, an instructor with Cook County Sheriff's Training Institute, spoke about how Equality Illinois helped him develop LGBTQ-affirming training
Ann & Robert H. Lurie's Children's Hospital receiving the Business Leadership Award
Personal PAC CEO Terry Cosgrove receiving the Freedom Award
Chicago Human Relations Commissioner Mona Noriega receiving the Freedom Award