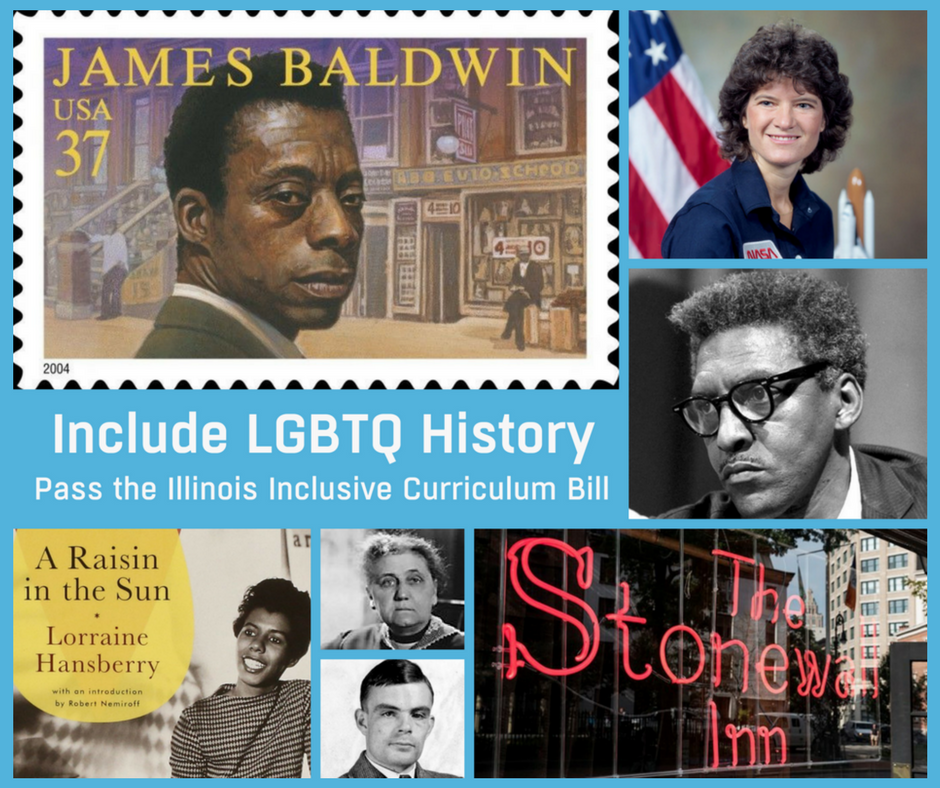 The 2018 Equality Illinois Legislative Agenda is lead by the Inclusive Curriculum Bill, an initiative of Equality Illinois and the Illinois Safe Schools Alliance, so students in Illinois will learn about the significant historical events and contributions by LGBTQ people.
BILL UPDATE (8/22/18): With a bipartisan majority, the Senate voted 34-18 for the bill. It is awaiting action in the House.
To ask your state representative to support the bill, click HERE.
Other measures backed by Equality Illinois during the current legislative session include the Equal Rights Amendment, expanding the civil rights protections of the Illinois Human Rights Act to cover more businesses and private schools, a bill to create the Illinois Council on Women and Girls, and a resolution urging the end of the federal ban on blood donations by gay men.
The Inclusive Curriculum Bill, SB 3249 and HB 5596, was introduced in February by state Sen. Heather Steans of Chicago and state Rep. Anna Moeller of Elgin. This curriculum would get Illinois closer to being a state that tells the whole story of our shared history.
An inclusive history will affirm for LGBTQ students that people just like them existed and made significant contributions to society. This inclusive history will also benefit non-LGBTQ students, who would be taught the whole story about the achievements of LGBTQ people and the historical events that impacted all of us.
The Illinois School Code already ensures inclusion in history curriculum of the contributions and experiences of other historically marginalized communities, including of people of color, women, immigrant communities, and people with disabilities, so SB 3249 and HB 5596 are consistent with current state law.
Since there is no requirement to include the roles and contributions of LGBTQ people in the Illinois School Code, the historical representation of LGBTQ people, events, and contributions is not discussed in most classrooms across the state.
Some examples: The nation's first gay rights organization, the Society for Human Rights, was formed in 1924 in Chicago. Illinoisan Jane Addams, the mother of social work, founder of the Hull House, and Nobel Peace Prize recipient, was in a committed 40-year relationship with her partner, Mary Rozet Smith. The organizer of the 1963 March on Washington, civil rights activist Bayard Rustin, was a gay man. And Sally Ride, the first U.S. woman in space, was a lesbian.
An inclusive curriculum can have positive, affirming benefits and help counteract some disturbing trends. Sadly, in schools across Illinois and the United States, LGBTQ students are told, through bullying, harassment, and exclusion, that they do not belong. These conditions have created a school environment where LGBTQ students are forced to hide their identity simply to protect themselves. According to the 2015 School Climate Survey by GLSEN, a national organization supporting LGBTQ youth in schools, 89 percent of LGBTQ students in Illinois have heard the word "gay" as a slur. And only 27 percent of LGBTQ students were taught anything positive about LGBTQ people in classrooms.
Inclusion of LGBTQ history in curriculum can have a positive effect on the educational outcomes and success of students. Nationally, more than 75 percent of LGBTQ students in schools with an inclusive curriculum said their peers were accepting of LGBTQ people, compared to just 39.6 percent of those in schools without an inclusive curriculum. LGBTQ students in schools with an inclusive curriculum also said they were more likely to graduate from high school.
The other legislative initiatives supported by Equality Illinois include:
•  SJRCA 4  – Ratifies the federal Equal Rights Amendment that says equality of rights may not be denied by the United States or the states on the basis of sex. UPDATE: The Illinois General Assembly ratified the Equal Rights Amendment.
•  HB 5544 – Creates the Illinois Council on Women and Girls to advise the Governor and the General Assembly on policy issues impacting women and girls in Illinois, including transgender women and girls. One of the goals of the Council would be to protect transgender women from violence and harassment and increase their fair and equal access to culturally competent health care, housing, employment, and other opportunities. UPDATE: Gov. Rauner approved this bill on August 17, 2018.
•  HB 4469 – Requires authorities to allow pre-trial jail inmates to vote and for authorities to provide information about voting when convicted prisoners are released. UPDATE: Gov. Rauner issued an amendatory veto of this bill on August 17, 2018. HB 4469 FACT SHEET.
•  HB 4572  – Amends the Illinois Human Rights Act to extend workplace anti-discrimination protections to businesses with one or more employees instead of the current 15 or more. UPDATE: Gov. Rauner vetoed this bill on August 13, 2018.
•  HB 4281 – Requires school districts to train employees about youth homelessness and how to connect homeless youth to resources
•  HB 5191 – Applies existing Illinois non-discrimination protections to private schools that benefit from the Education Tax Credit Scholarship Program
•  SR 986 – A resolution that calls on the president and the Department of Health and Human Services to lift the restrictions on blood donations from men who have sex with men