EQUALITY ILLINOIS HONORS 41 LAW FIRMS FOR COMMITMENT TO DIVERSITY
Chief Judge Diane Wood of the U.S. Court of Appeals for the Seventh Circuit to
Address Recognized Firms at 'Raising the Bar' Breakfast
CHICAGO (August 6, 2014) – Equality Illinois today recognized 41 Illinois law firms for "Raising the Bar" and leading the way in providing a welcoming and fair work environment for lesbian, gay, bisexual, and transgender (LGBT) employees and engaging with the LGBT community.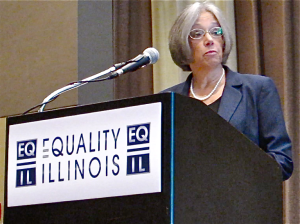 Diane Pamela Wood, the Chief Judge of the United States Court of Appeals for the Seventh Circuit, will address the firms at the Equality Illinois Raising the Bar Recognition Breakfast on Wednesday, August 13, 2014 in the Hyatt Regency Chicago. In Judge Wood's first address to an LGBT organization, she will be speaking on the importance of diversity in the legal field.
"As we make progress towards full LGBT equality in the law and in the court of public opinion, the state's lawyers have led the way through inclusiveness in their workplaces, community outreach, and public advocacy," said Bernard Cherkasov, CEO of Equality Illinois, the state's oldest and largest LGBT civil rights organization.
"The 41 law firms that Equality Illinois is recognizing in the 2014 "Raising the Bar" report are at the forefront of that effort, and we congratulate them and thank them for their contributions," Cherkasov said.
Read and download Raising the Bar 2014 here.
Watch Judge Wood's address to the Raising the Bar Breakfast here.
With the information gathered from the 2014 Equality Illinois Law Firm Survey, Equality Illinois identified the law firms in Illinois that are leading the way to LGBT workplace equality and community engagement. The findings include:
For the third year in a row, 100% of responding firms have an equal employment opportunity policy or non-discrimination policy that expressly included sexual orientation.
100% of responding large and mid-size firms have an equal employment opportunity policy or non-discrimination policy that includes gender identity and/or gender expression.
53% of responding firms have gender transition guidelines, a recently recognized policy need, representing a six-percentage-point increase from last year.
In a growing trend, 21% of responding firms require their vendors or contractors to have a non-discrimination policy that includes both sexual orientation and gender identity and/or expression in order to provide staff or engage in business with the firm.
"Every law firm in the state – indeed every business in the state – can learn from these pro-active policies that not only help the companies compete in the marketplace, but also help the companies recruit and retain top talent. Equality Illinois stands ready to assist any Illinois firm that wants to strengthen its LGBT-friendly policies," Cherkasov said.
For the 41 recognized firms, inclusion in the 2014 Equality Illinois "Raising the Bar" report is highly valued.
For example, Clay Tillack, chair of the LGBT Diversity Subcommittee at Schiff Hardin LLP, said, "Even as we make considerable, even breathtaking progress in the LGBT rights movement, it is sobering to recognize that much work remains to be done. Each of us and each of the organizations to which we belong or for which we work can make a difference. I am proud that Schiff Hardin continues to be at the forefront of efforts to provide LGBT lawyers and staff a workplace that is inclusive, supportive, and diverse."
The law firms being recognized, in alphabetical order, are listed here. Also, following the list, many of the firms commented on the meaning of this recognition:
Aronberg Goldgehn
Baker & McKenzie
Bryan Cave LLP
Butler Rubin Saltarelli & Boyd LLP
Chapman and Cutler LLP
Clark Hill PLC
Dentons US LLP
DLA Piper
Drinker Biddle & Reath LLP
Dykema
Edwards Wildman Palmer LLP
Foley & Lardner LLP
Franczek Radelet P.C.
Goldberg Kohn Ltd.
Greenberg Traurig LLP
Hinshaw & Culbertson LLP
Holland & Knight LLP
Jenner & Block LLP
K & L Gates LLP
Katten Muchin Rosenman LLP
Kirkland & Ellis LLP
Latham & Watkins LLP
Mayer Brown LLP
McDermott Will & Emery LLP
McGuireWoods LLP
Morgan, Lewis & Bockius LLP
Neal, Gerber & Eisenberg LLP
Nixon Peabody
Nyhan, Bambrick, Kinzie & Lowry P.C.
Perkins Coie LLP
Quarles & Brady LLP
Reed Smith LLP
Schiff Hardin LLP
Sedgwick LLP
Seyfarth Shaw LLP
Sidley Austin LLP
Skadden
SmithAmundsen LLC
Thompson Coburn LLP
Winston & Strawn
Yearwood and Associates, Ltd.
Equality Illinois
2014 Raising the Bar Survey
Statements by Honored Law Firms
"At Aronberg Goldgehn, our personal approach to the practice of law applies both internally and externally, and we view a commitment to diversity in the workplace as an extremely important component of that approach. Having recently celebrated the firm's 120-year anniversary, we understand the vital role of a welcoming and supportive work environment, and we are very honored to be recognized by Equality Illinois for our dedication to LGBT inclusion."
– Christopher J. Bannon, Co-Managing Member
"At Butler Rubin, it's very important that every member of our firm feel a part of the team. We emphasize inclusiveness throughout the firm and in all areas of our recruitment process."
– Michael P. Motyka, Chief Operating Officer and Management Committee Member
"Chapman and Cutler is a leader in equal opportunity employment because we value excellence and recognize that having a diverse workforce is an important contribution to that excellence. Excellence is found in cultivating the talents and unique perspectives of each individual employee."
– Tim Mohan, Chief Executive Partner
"As a growing firm with international reach and global clients, Clark Hill PLC understands the importance of a diverse and inclusive culture. Clark Hill PLC believes in promoting diversity and inclusion in our firm, fostering a collegial and respectful working environment in which each person is encouraged and supported to reach his or her highest potential. Clark Hill PLC will continue to aggressively pursue workplace equality for all, including members of the LBGT community."
– Ray Koenig, Member
"Dentons and its predecessor firms have prided themselves for years on creating an atmosphere of inclusion that celebrates differences and emphasizes the importance of individuality and individual thought. In that regard, we have long been at the forefront of acknowledging and supporting LGBT initiatives across the firm and encouraging lawyers, other professionals and staff in supporting those initiatives."
– Steven Velkei, Partner and U.S. Diversity and Inclusion Chair
"At DLA Piper, we are committed to developing a culture that is inclusive of all, where individual diversity is valued and everyone has the opportunity to succeed. This, of course, includes our lesbian, gay, bisexual and transgender colleagues and straight allies. This commitment to diversity and inclusion is key to our success as a firm and it defines who we are."
– Genhi Givings Bailey, Director of Diversity & Inclusion
"At Drinker Biddle & Reath, we believe that an inclusive workplace is a critical element for providing exemplary client service. We invest in recruiting, professional development, peer groups and mentoring programs to foster a diverse work environment and client teams. We are grateful to Equality Illinois for recognizing Drinker Biddle's efforts."
– Ed Getz, Managing Partner – Chicago
"Foley & Lardner LLP is proud of its commitment to supporting and advancing LGBT diversity in the workplace. We are honored to be recognized again by Equality Illinois for our continued efforts to provide an equal and inclusive workplace for all."
– John Litchfield, Chicago Litigation Attorney; President, Lesbian and Gay Bar Association of Chicago
"This recognition by Equality Illinois for the third straight year is a direct result of our commitment as a firm–from the top down–to create a workplace where each of our attorneys and employees has the ability to succeed while being their self."
– Michael J. Hernandez, Firm Diversity Officer at Franczek Radelet
"Goldberg Kohn believes that to succeed in the long term, the principal motivation behind a diversity initiative must be a focus on creating a vibrant culture in which all attorneys can thrive. The firm is committed to building an environment that contributes in important ways to all facets of community life and reflects the diversity of Chicago."
"At Greenberg Traurig, our dedication to equality goes far beyond our longstanding commitments to diverse and inclusive workplace policies and benefits; it is fundamental to our culture. We are deeply honored to be recognized by Equality Illinois for our efforts."
– Greg Ostfeld, Shareholder
"At Hinshaw & Culbertson LLP, we have a long-standing commitment to ensuring our firm reflects the diversity of the communities where we work and live. We are honored that our efforts to support the LGBT legal community were recognized by Equality Illinois and hope to build on these efforts in the years to come as diversity and inclusion continues to be a top priority at Hinshaw."
– Donald L. Mrozek, Chairman
"We are champions of Lesbian, Gay, Bisexual and Transgender diversity in the workplace, in the profession and in the community, and we are so proud to be recognized again by Equality Illinois as one of the top LGBT-friendly law firms in Illinois."
– Terrence J. Truax, Jenner & Block's managing partner.
"To provide the best possible service to our clients, Kirkland & Ellis strives to hire, train, and promote the most talented attorneys. Part of this commitment includes fostering an environment in which all LGBT attorneys have the greatest opportunities to thrive."
– Jordan Heinz, Partner
"Latham & Watkins is once again honored to be recognized by Equality Illinois for its commitment to LGBT inclusiveness. As a firm, we value the multiplicity of viewpoints that comes from having lawyers and staff with a diverse mix of ethnicities, religions, races, and sexual orientations, and we are delighted to be acknowledged for our efforts in this area."
– Brad Kotler, Managing Partner of the Chicago office
"At McDermott we are deeply committed to fostering a diverse and inclusive workplace for LGBT attorneys and staff, and to reaching out to promote equality for the LGBT community around the world. We are very proud that we continue to be recognized as one of the top Illinois law firms for LGBT inclusiveness and equality and received Equality Illinois' "Business Leadership Award" in 2012 as well as eight consecutive 100% ratings on the Human Rights Campaign's Corporate Equality Index."
– Michael W. Weaver, Chair of McDermott Will & Emery's LGBT Diversity & Inclusion Committee
"McGuireWoods strives to be a leader in legal diversity in Illinois and all of the communities where we practice law. We believe our commitment to diversity and inclusion substantially benefits our lawyers, staff and clients. Because of this commitment, the firm contributes to organizations like Equality Illinois, supports the LGBT Lawyers Network within our firm, and hosts retreats for our LGBT lawyers where we can focus on important issues related to inclusiveness and equality."
– Amy Manning, managing partner of the Chicago office
"Morgan Lewis is dedicated to maintaining LGBT equality in all facets of the community through our policies, practices, and benefits. Our Diversity Committee, which works to promote diversity and inclusion initiatives across the firm, is just one example of how we draw on a variety of viewpoints, experiences, and backgrounds to maintain an equal workplace."
– Scott Schutte, Managing Partner
"Neal, Gerber & Eisenberg LLP is proud to once again be recognized by Equality Illinois as one of the top Illinois law firms for LGBT inclusiveness and equality. We believe that supporting equality and inclusion promotes creativity, opportunity and professional development at every level, making our firm a better place to work and allowing us to better serve our clients' interests."
"Equal treatment for LGBT lawyers and staff is not an aspiration, it is an imperative. We believe a diverse environment fosters an inclusive atmosphere that benefits everyone within it."
– Kendal Tyre, partner and co-chair of Nixon Peabody's Diversity Action Committee
"At Nyhan, Bambrick, Kinzie & Lowry we embrace the gift of diversity as the linchpin of fairness and equality."
– William A. Lowry, Esq., Managing Shareholder
"As a member of the LGBT community I'm proud that Quarles & Brady is a truly inclusive workplace; one in which I have flourished professionally. We recognize that the diversity of our backgrounds, perspectives, and experiences creates a richer working environment, engendering more and better solutions for our clients."
– George Marek, Partner, LGBT Attorney Resource Group Chair, and Member, Firm Diversity and Inclusion Committee Advisory Council
"Reed Smith is proud to be recognized by Equality Illinois for our leading practices on LGBT inclusion.  Building an inclusive workplace and embracing diverse perspectives is a core value that positively impacts our colleagues and clients."
– Tyree Jones, Director of Global Diversity & Inclusion.
"We are truly honored to be recognized by Equality Illinois as one of the top Illinois law firms for LGBT inclusiveness and equality. At Sidley Austin, we are steadfastly committed to diversity in every form and are proud to foster a culture throughout the firm that is open and inclusive."
– Carter Phillips, Chair of Executive Committee
"We are pleased to have received this honor from Equality Illinois recognizing Sidley as a LGBT friendly firm. It is a reflection of our longstanding commitment to diversity in the workplace and our ongoing pledge to ensure Sidley is an inclusive and welcoming place to work."
– Larry Barden, Chair of Management Committee
"At Skadden, our commitment to fostering a diverse and inclusive environment for our attorneys and staff is inextricably intertwined with our commitment to excellence as a global law firm. Our support for LGBT communities is an important facet of that deep commitment. Among the many other benefits, our broad range of experiences and perspectives helps us find the best approaches to serving our clients."
"In less than 20 years, SmithAmundsen has grown from a small litigation firm to a firm of more than 150 corporate and litigation attorneys practicing in seven communities across the Midwest. We credit this success to our true commitment to recruiting, mentoring and empowering individuals who bring differing perspectives and experiences to our firm. We are honored to receive this distinction from Equality Illinois and wholeheartedly plan to continue in our efforts to promote diversity in the legal profession."
– Glen Amundsen
"Having policies inclusive of the LGBT community is not only the right thing to do; it's in the best interest of our firm, because diversity and inclusion matter to our clients across the country and our own people as well. We have vocally supported laws that extend basic workplace protections to members of the lesbian, gay, bisexual and transgender community, and will continue to do so in the future."
– Tom Minogue, chairman, Thompson Coburn
"We are honored to be named by Equality Illinois as one of the leading law firms doing business in Illinois. Our leadership role includes expanding our domestic partner benefits to provide a tax gross-up payment for employees in same-sex partnerships as well as transgender-inclusive benefits. We thank our attorneys, clients, and friends in the business community who always inspire, encourage, and motivate us to continue the hard work in finding solutions to challenging diversity issues."
– Amanda C. Sommerfeld, Partner and Chair, Diversity Committee, Winston & Strawn
"When asked why the firm is a leader in providing equal treatment for LGBT lawyers, staff and community, Ellen Yearwood of Yearwood and Associates said, 'I have always believed in respect and fairness. As a lesbian myself, I believe in making sure all my clients, my staff, and my neighbors – gay or straight, trans or bisexual, questioning or queer – are welcomed and treated with dignity. I also believe that what goes around comes around, and I have found that the nicer the people in my firm behave, the nicer the people who interact with us behave. Of course, we still politely litigate vigorously and negotiate aggressively!' "
#  #  #