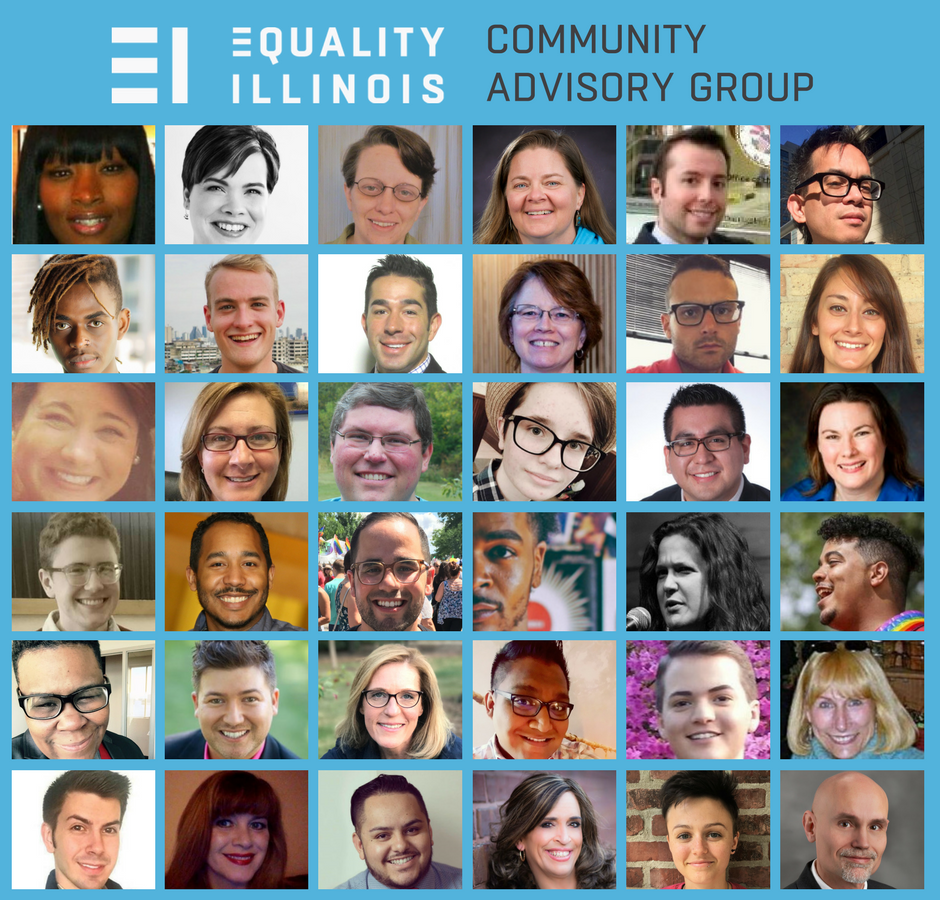 Members of the Community Advisory Group wrote their own biographical sketches:
Grayson Alexander, is a freshman at Loyola University Chicago studying anthropology and political science after graduating in the spring of 2017 from Springfield High School. After coming out as transgender in 2013, he advocated for trans-inclusive policies within the Springfield 186 and surrounding school districts. Grayson has worked closely with The Phoenix Center, The Illinois Safe Schools Alliance and Equality Illinois.
My name is Shoghi Aqdas, of Chicago. I moved to the United States about two years ago to start a new life and being openly gay where I felt I'll be safe and accepted. Through my struggles back in Africa I grew strong through the adversities I faced, to champion for rights of everyone and necessitate the basis of inclusivity. These goals led me to learn a lot about myself. The fears I grew up with and a lot of what I thought I knew was challenged to every core. I am an actor and artist, and through art I've tried to relay messages of what I've learned through life, whether it's a dance performance or a speech or a talk with a few people. Every step of my life has been to live an authentic exciting life and challenging all assumptions of what it means to be a human.
Tara Bell-Janowick, of Herrin, is a Southern Illinois native, born in Marion, IL. She has a BA in Philosophy, MA in Literature, and a Women and Gender Studies Certification from Southern Illinois University, Carbondale. Her work has been published in the Journal of Women's Studies. She is the former sponsor of the LGBTQIA at Rend Lake College of Ina, IL, where she taught for seven years. Now teaching for Southern New Hampshire University, she is the board Vice President, community relations chair and volunteer at the Rainbow Cafe of Carbondale, a youth center for LGBTQ+ teens aged 13-19. Additionally, she is a member of Illinois State Treasurer Mike Frerich's LGBTQ Advisory Council. Long time LGBT+ activist and advocate, and parent of a trans teen, she is committed to raising awareness and education of issues that affect the queer community in Southern Illinois.
Dave Bentlin, of Bloomington, is a native of central Illinois and has been a part of LGBTQI social justice and community building efforts for the past 25 years. In 1995 he helped establish the Advocacy Council for Human Rights, Bloomington/Normal's first LGBTQI community organization. That group worked to gain passage of inclusive human rights ordinances in Normal in 2001 and in Bloomington in 2002. He currently serves as president of the Prairie Pride Coalition, an organization based in Bloomington/Normal that works to make the Twin Cities a better, more welcoming environment for people of all sexual orientations and gender identities. Past involvement includes serving as six years on the Bloomington Human Relations Commission. Bentlin is a past recipient of the ACLU John Hammell Award, named for the Illinois affiliate's first director of its Gay and Lesbian and HIV/AIDS Project. Other awards include the 2015 ISU Staff Diversity Advocacy Award and a 2014 nomination for the City of Bloomington Martin Luther King Jr. Award. Bentlin has bachelor's degrees in history and journalism from Illinois State University, where he currently works as the administrative assistant to the president. He is on the steering committee of the Central Illinois Chapter of ACLU, is a member of the board of the Illinois State University LGBTQ Institute, and is on Treasurer Mike Frerichs' LGBTQ Advisory Committee.
Jan Christian Bernabe, of Chicago, is currently the Operations, New Media, and Curatorial Director of the Center for Art and Thought (CA+T), a virtual nonprofit hub that supports Filipino and Asian diasporic arts, literature, and scholarship through curatorial and residency programs. He has implemented several LGBTQ-centric projects for CA+T that convey his deep commitment to LGBTQ visibility and politics within communities of color. He is a first generation Filipino-American and genderqueer writer, mentor, and scholar, earning a Ph.D. from the Program in American Culture from the University of Michigan. His interdisciplinary research and writing interests include Asian American visual culture and art history, comparative race and ethnic studies, and queer cultural studies. He is the co-editor of the anthology Queering Contemporary Asian American Art, published in 2017. For over 20 years he has worked on intersectional social justice and activist projects. As a former professor, he taught interdisciplinary courses that centered race, LGBTQ studies, and art and visual culture; he also served as a mentor and advisor to LGBTQ students and students of color. As a queer person of color in a same-sex binational marriage, he is committed to fighting for LGBTQ immigrant rights, racial and economic justice, and transgender policy on a statewide and national level. And as a child of an American veteran, he is an advocate for LGBTQ-inclusive policies in the U.S. military. On his free time, he enjoys reading nonfiction books about science and technology, watching makeup tutorials on YouTube, and dabbling in coding.
Missa Borah is in her last year of grad school at the University of Illinois at Urbana-Champaign. She is pursuing a Master of Social Work degree with a concentration in leadership and social change. She received her bachelor's degree in political science and is interested in social justice advocacy. When she's not attending rallies and protests, she's reading, playing guitar, hanging out with friends, or working as a barista. She believes the most important thing in life is standing up for what you believe in. The second most important thing is a good cup of coffee.
Cindy Wellwood Burke is a life long Illinoisan.  After raising her family in the western Chicagoland suburbs, she returned to her hometown of Elmhurst. She credits her innate desire to serve others to her Illinois upbringing and family heritage, whose members were early champions and supporters of the equality movement. Her maternal great grandfather, a Chicago tavern owner, sheltered demonstrators in the Chicago Haymarket Riots at the turn of the 18th century. The mother of an openly gay son, Burke continues to carry the torch for her deeply held personal convictions in advocating for equality, fairness and freedom for All Americans.
As the result of her community involvement after raising her family, she became involved in the political process.  Cindy completed her Masters Degree in Public Policy (Summa Cum Laude) from National Louis University adding to her undergraduate degree in Social Work from Indiana University.  She is committed to the founding principles in The Party of Abraham Lincoln. Cindy participated in The Illinois Lincoln Excellence in Public Service Series in 2013, a political fellowship program designed for women seeking further education and advancement in public service and government.  She worked as the Director of Constituent Services and Advocacy for United States Senator Mark Kirk in 2015 and 2016.
Cindy was a vocal member of the 2016 Illinois Republican Party Convention Platform Committee and strongly advocated to include open language in the definition of family and marriage.
Cindy is the Administrative Assistant with the Torture Inquiry and Relief Commission, a division of the Illinois Human Rights Commission. The Commission was created by the Illinois State Legislature in 2009 in response to disgraced former Chicago Police Department Commander John Burge, who physically tortured predominantly men of color into false confessions of crimes.
Cindy is a real estate managing broker and also serves as Secretary of the Board for HOPE Fair Housing, an organization devoted to insuring equality and fair housing. Their service area includes over 30 counties in Illinois.
Rodrigo Carrillo is a 2016 graduate of East-West University with a bachelor's degree in Business Administration and Management. Prior to his degree, his career spans over 20 years in banking, management, and the nonprofit sector. Within banking he worked as a consultant in FHA auditing in New York and Michigan. In 2008, he changed careers as a housing and homeless prevention counselor at a nonprofit affordable housing agency. Discovering his passion for community work, Rodrigo continued to work in community wealth building, financial services, and foreclosure prevention. After graduating from the Latino Policy Forum Leadership Academy, another leadership opportunity happened in his career by becoming the Director of Operations for a nonprofit agency in assisting homeless youth and families, La Casa Norte. In his role, he participated in carefully assisting with permanent, supportive, and transitional housing. He currently serves as Deputy Clerk for the City of Chicago since February 2017. His new role is to co-lead the City Clerk's office by delivering high quality services to 1.2 million Chicago residents. Also, he and the City Clerk's team are responsible for administering and implementing the new Municipal ID program for all Chicagoans, which will help many populations facing barriers on obtaining a valid government ID.  He is a current board member of the Association of Latinos Motivating in Action, which supports advocacy and family acceptance for the LGBTQ community. Outside of work, he currently lives in the Edgewater neighborhood. He is married to his husband and has two dogs.  Rodrigo advocates for the disenfranchised and is a proud member of the Latino/LBTGQ community.
Vinny Cascio, MA, CRC, LPC, of Elgin, is a mental health therapist. Born and raised in the great prairie state of Illinois, Vinny attended Roosevelt University and graduated in 2010 with a Bachelors in Psychology and Sociology. He also attended Adler University and graduated in 2012 with a Masters in Clinical Psychology and Rehabilitation. Vinny is a licensed mental health therapist and currently works at Elgin Community College providing individual and group therapy as well as seminars and workshops that support positive mental health. As a gay cisgender Latino, Vinny strives to live his life dedicated to activism and challenging the status quo.
James Cervantes, of Burr Ridge, is a Program Manager of Operations at Northwestern Medicine. He earned a bachelor's degree in business and journalism from Indiana University and master's degree in health systems administration from Georgetown University in Washington DC. He has several years of experience working in local politics having ran for Township Trustee for the city of Berwyn in 2009. James is married to his husband, George, and has one son, Kellan. He is passionate about improving access to care for the LGTBQ community and reducing inequality in the workplace and health insurance sectors. As a new member to the Community Advisory Group, James is excited to work with others to bring about positive change to the state of Illinois.
Ebonie S. Davis, of Chicago, is a certified Professional Instructor/Facilitator with the State of Illinois Department of Human Rights' Institute for Training and Development and currently serves as Board President of Affinity Community Services in Bronzeville. Ebonie is an agent of change with a natural passion for helping others overcome barriers to success! As a member of the Equality Illinois (EI) Community Advisory Group, Ebonie looks forward to ensuring that the rights of LGBT Illinoisans are protected and the most marginalized voices among them are heard!
Brandy Donaldson, of Rock Island, was born and raised in Wynne, Arkansas. She earned a bachelor's degree in journalism from Arkansas State University and a master's degree in communications management from Webster University. Brandy moved to the Illinois Quad-Cities in 2007. After being a news reporter for seven years there and in southern Missouri, she joined MidAmerican Energy Company as its customer communications manager in 2012, and is now the director, marketing and communications at the Quad Cities Chamber of Commerce. Brandy's volunteer work includes Big Brothers Big Sisters of the Mississippi Valley, the Rock Island County NAACP branch, United Way of the Quad-Cities, The QC Empowerment Network, Palomares Social Justice Center, Young Professionals of the Quad Cities, ALPHAS (African-American Lesbian Professionals Having a Say), YMCA and The Chemo Care Package Project, which she created.
Samantha Ellison, of Chicago, is a former Chicago Public School Special Education Teacher and currently an intern in the office of U.S. Senator Tammy Duckworth. She has a BA in Women & Gender Studies and MS in Special Education. Samantha continues to serve the people of Illinois by advocating for equitable education policies by making sure the voices of minorities, women, LGBTQ people, and people with disabilities are heard and have a say in decisions that affect their educational experiences.
Raúl Fernández, of Chicago, was born and raised in Miami, Florida. He earned a bachelor's degree in Political Science and International Affairs from Florida State University and earned a master's degree in Educational Administration from Texas A&M University. He currently works at the Illinois Institute of Technology as the Coordinator for First Year Programs and Campus Life. His experience is in higher education where he advocates for students from marginalized populations and providing enriching experiences for students.
Reverend Marcus Fogliano, of Peoria, an intersectional community activist, has been active in numerous not-for-profit organizations and groups in Central Illinois. They currently serve as the President of Peoria Proud, Secretary of the FamilyCore and Interfaith Alliance boards of directors, and represents the LGBTQ Community as the Deputy Chair of the City of Peoria Advisory Committee on Police-Community Relations. Fogliano previously has worked on Your Normal LGBT Film Festival committee in Normal, Illinois and was a march captain during the March on Springfield for Marriage Equality, among a long list of other volunteer activities. As a mixed race, "gender-queer" individual Marcus brings all of their identities to the table in the fight for racial, gender, and economic justice. Their faith drives them to work towards a stronger democratic society, that appreciates the inherent worth and dignity of all people.
David Fuentes, of Chicago, is a Senior Analyst in Credit Risk Management at the Federal
Reserve Bank of Chicago and is also a candidate for Master of Public Policy at the Harris School of Public Policy. David first joined the Fed in July of 2008 after earning his B.A. in Economics from the University of Chicago. In his current role, David supports data analysis that contributes to the construction of monetary aggregates and other economic indicators and supports automation of our central bank's tools of monetary policy. David has always had a passion for social justice, having served on numerous student and employee resource groups focusing on the disenfranchisement of Latinx and Queer communities. He has contributed to the Fed's diversity and inclusion efforts and has helped create space for the Bank to lead on social issues, mainly financial literacy in underserved communities and the under-representation of people of color in the finance industry. His academic interests focus on urban policy spanning the realms of education, crime, poverty/inequality, arts and culture, and economic development. He hopes his experiences and perspective can add to the rich dialogue surrounding the progress of our community and is excited to be a part of Equality Illinois' work and mission.
JoAnne Geigner, of Urbana, is a proud parent of a transgender child.  Born in Chicago and raised in the suburbs, she's been in central Illinois for the past 20+ years.  JoAnne enjoys working in social media and public affairs, and currently coordinates communications for the Urbana School District #116.  She earned a bachelors of arts in Literature/Communications from Illinois Benedictine College.  JoAnne is looking forward to helping make life in Illinois more equitable for the most vulnerable of populations – LGBTQIA children within the court and state systems.  She resides in Urbana with her husband, son, and a house full of cats.
Erik Glenn, of Chicago, is Executive Director of Chicago Black Gay Men's Caucus and has more than a decade in HIV prevention, Like many of us, he began his career with a calling to address the daily injustices faced by racial, sexual, and gender minorities. Today, he manages a portfolio of work that works to reduce structural barriers to health equity among Black gay, bisexual, and same gender loving men. Erik is a graduate of University of Chicago's School of Social Service Administration and University of Michigan.
Until recently, Max Halm, of Chicago, had lived at the sparsely populated intersection of "gay" and "Republican." Having started involvement in Republican Party politics and government at the age of fifteen, ranging from directing field operations on a state Senate race to interning in his congressman's office, it was his coming out at the age of nineteen and his time at Illinois State University that offered him experiences to better shape his understanding of realities facing underrepresented, marginalized groups. Following his recent involvement on Sen. Mark Kirk's campaign as the director of coalition development and a co-chair of LGBTQ Allies for Kirk, Max recognizes there are significant challenges that lie ahead for individuals at all intersections of the LGBTQ community. He looks forward to helping identify and raise bipartisan awareness of these challenges.
Susan Haarman hails from Louisville, KY,  but has lived in Milwaukee, Texas, Berkeley, West Virginia, Pennsylvania and the fine city of Chicago. She is the Associate Director of the Center for Experiential Learning at Loyola University Chicago, where she runs the service-learning program and works with faculty to deliver high-impact learning experiences in connection with the larger Chicago community. She has a Masters in Divinity from the Jesuit School of Theology at Berkeley and has been working in higher education for over 10 years, previously in campus ministry roles. Susan is passionate about Jesuit education, civic engagement, and the essential role of the LGBTQ in community development and political change.
Carter Harms, of Chicago, serves as chief of state Rep. Ann Williams' Chief of Staff. His work includes managing the district office at Belmont and Paulina, overseeing official communications, and helping advance legislative priorities. Before his first job in the political world as a field organizer, Carter attended Wheaton College, where he advocated against anti-LGBTQ policies and worked to create more space for progressive voices on campus. If he is not at the office or his apartment in Avondale, you can find him running on the lake shore trail or drinking a slushie on Sidetrack's roof.
Justin Michael Hendrix, lives in Champaign, where he was born and grew up. He also spent a lot of time in East St. Louis and St. Louis during his teen and adult life, so the social and political issues are no stranger to him. Today, Justin focuses on creating a platform to rebuild the gap between and educate the masses, as it pertains to the Black Lives Matter movement and a plethora of issues plaguing the African American LGBTQI community, all this via his very own organization, Homo is the new Homeboy and visual project Manhood For Sale.
Kendra Henson, of Normal, currently works as a Business Operations Specialist for the American Red Cross and serves on the National Steering Committee for the LGBT Team Member Resource Group for the Red Cross. She also serves as co-chair for the Engagement subcommittee for this group and as Vice-President of the Board of Directors of the Central Illinois Pride Health Center. Kendra has worked as a medical social worker for the State of Vermont Department of Health, serving children with special health needs, and has served non-profit organizations in different roles since 1997. Kendra resides in Normal with her wife and two children. She enjoys reading, biking, and time with her family.
Tanya Imam, of Chicago, grew up in Bloomington-Normal. She is a Licensed Clinical Social Worker and works in the mental health field as a psychotherapist. Dedicated to destigmatizing mental health concerns, she has worked extensively with folks in the LGBTQIA community who have experienced trauma. Tanya has also taught graduate-level courses at her alma-mater, Aurora University, and is dedicated to supporting young professionals. As a multi-ethnic, cisgender, lesbian woman, Tanya is passionate about intersectionality and working towards ending systems of oppression.
Lucas Johnson, of Orion, IL is a graduate of political science from Eastern Illinois University (EIU). At EIU, Lucas was a Resident Assistant, member of the Social Justice and Diversity Committee, and member of the Student Action Team. Lucas completed his thesis on transgender health care coverage, accessibility and availability, and education of providers in December 2016. He is currently volunteering in Orion and the greater Quad Cities area, and he plans to attend graduate school in the fall of 2018.
Anthony Michael Kreis, of Chicago, teaches law at the Illinois Institute of Technology's Chicago-Kent College of Law. Prior to joining Kent, Professor Kreis taught at the University of Georgia and was a visiting scholar at Emory University School of Law. Professor Kreis' research focuses on the law's treatment of vulnerable persons, especially with respect to lesbian, gay, bisexual, and transgender individuals. In 2016, Professor Kreis was recognized as one of the up-and-coming academics in family law by the University of Illinois College of Law's Family Law and Policy Program. Active in law reform efforts, Professor Kreis has served as a consultant on litigation and legislation related to same-sex marriage in several states and has testified numerous times to state legislators on a variety of LGBT rights issues. Working with a coalition of civil rights groups, Professor Kreis evaluated federal judicial nominees' qualifications and helped strategize efforts concerning judicial nominees before the Senate Judiciary Committee.  He earned his Ph.D. from the University of Georgia, his law degree from Washington and Lee University, and his bachelor's degree from the University of North Carolina at Chapel Hill.
Elizabeth A. Malone has settled in Murphysboro, Illinois, after living in numerous states in this country as well as in Germany for a few years as an Army dependent. She expects to graduate law school in May 2018 and started the LGBTQ+ registered student organization, OUTlaw, at Southern Illinois University School of Law in 2015. In Spring 2017, with the advice of the Illinois Safe Schools Project, OUTlaw launched the Translegal Clinic. This free clinic offered free name change assistance to transgender adults in Jackson County, Illinois, working with the local courts, a volunteer local attorney, and volunteer law student staff trained to appropriately and compassionately interact with transgender adults. The clinic continues to expand, now offering services to minors and for gender marker changes. After law school, she plans on opening a private practice in Murphysboro and continue serving the LGBTQ+ community.
Ramona Faith Oswald, Champaign, is professor of Human Development and Family Studies at the University of Illinois Urbana-Champaign. She is nationally recognized as a top scholar and teacher in the area of LGBT family relationships. Also, she and her students organize the annual LGBTQ Research Symposium that brings about 100 researchers, students, and practitioners to Urbana each May. In addition to receiving numerous awards for her research, teaching, and service, Dr. Oswald recently has been elected a Fellow of the National Council on Family Relations. Dr. Oswald's research focuses specifically on LGBT experiences within non-metropolitan and rural communities, and the results of her studies have been used to advocate for community change within downstate Illinois.
J. Marcos Peterson, of Chicago, a Lake County, Illinois native, has a great mix of private and public sector experience. He served the White House as an advance representative and has worked on the national level for a presidential campaign. After running a social service-based company for 8 years, he joined Governor Rauner as an advisor for Latino, Immigrant, and LGBTQ issues. CurrentlyMarcos continues to serve the people of Illinois by running the Business Enterprise Program, helping businesses owned by minorities, women, people with disabilities, and veterans thrive in Illinois.
Rhine is a high school student, artist, and musician who is invested in causing conversations that help support compassion and awareness. He lives in the Western burbs with his two brothers, one sister, two cats and one dog. After coming out as transgender in 2016, he joined his local Prism club and is ​very passionate about being a part of the equality solution for all.
Caryn D. Riswold, Ph.D., of Jacksonville, is a feminist theologian in the Lutheran tradition who teaches, writes, and speaks at the intersection of gender justice and religion. She is a Professor of Religion and Gender & Women's Studies at Illinois College, where she has worked with undergraduate students for fifteen years, encouraging them to critically and constructively engage religious questions and social issues. She is the author of three books, the most recent of which is Feminism and Christianity: Questions and Answers in the Third Wave. She writes op-eds for local and national newspapers, speaks to audiences on campuses and in communities across the country, and frequently blogs at Patheos.com. You can follow her on Twitter @feminismxianity.
Kathleen Robbins, of Champaign, graduated from the USAF Academy in June, '68 with a BS in Engineering Science. She graduated first in her Nav school class and flew C-130s as an instructor navigator in Vietnam for two years, Sep '69 to Aug '71. Missions ranged from Air Evac to Commando Vault, dropping 10,000 & 15,000 lb bombs, "Daisy Cutters". She was awarded the Distinguished Flying Cross as well as the Air Medal with six oakleaf clusters. She resigned from the AF in Jul '75 and subsequently worked in corporate America, beginning with P&G, co-founded two start-up companies and was CEO of Cellular One of East Central Illinois for eight years. In 2002, she completed a doctoral program and resigned from Cellular One in 2003 to replicate the Grameen Bank Village Phone program (a woman gets a loan for a phone and sells the use to her friends and neighbors) in Haiti. Internal turmoil in Haiti aborted the effort so she went into the Peace Corps and served in Botswana for a short time. In 2006 Kathleen returned to Haiti, living there for 15 months setting up Fonkosel ak pa Digicel, a village phone program. In 2007 she co-founded the jatropha projenou, an effort to develop a biodiesel and soap industry in Haiti using seeds from a native tree, jatropha curcas, to produce oil. The plan is to turn plant oil into biodiesel for use in Digicel's (the cell phone company) generators. Today she travels to Haiti 3 to 4 times a year. In her other life, she is the Executive Director of McKinley Foundation at the University of Illinois.
Luis Roman is the Deputy Policy Director for the City of Chicago's Office of the City Clerk. In this role, Luis is committed to working with community members to strengthen the relationship between local government and its residents, and develop public policies that support all Chicagoans. He is also a Board member and the Advocacy Chair for the Association of Latino/as Motivating Action (ALMA), an LGBTQ Latino advocacy organization.
Luis was born in Mexico and grew up in the northeast area of Los Angeles, CA. In 2012, he moved to Chicago to participate in an AmeriCorps program with the Illinois Coalition for Immigrant and Refugee Rights (ICIRR) and Lambda Legal. Most recently, Luis worked with Illinois Action for Children's Public Policy and Advocacy Department to organize community leaders to advance policy issues in the early care and education field, and support local collaborations to change systems to better support children and families.
Luis is committed to social justice. He began his activism work in high school when he revived his school's Gay-Straight-Alliance. Luis attended UCLA, where he studied Chicana and Chicano Studies with an emphasis in the humanities, and Women's Studies.
He recently completed the Community Engagement Launchpad Fellowship with the Young Professionals in Nonprofit Network (YNPN), where he led the organization's plan on equity, diversity, and inclusion. He is also an alumnus of the Latino Policy Forum's initial Multicultural Leadership Academy.
In June 2013, Luis was recognized by the Windy City Times as one of the 30 under 30 outstanding LGBT leaders in Chicago.
Michelle Royal is a self-employed business owner, current Board member of Quad Cities Queer Community, a 501c head of programming and events, head chair person for organizing June 2018 1st Bi-state Unity LGBT pride parade, Transgender role model, advocate, and public speaker. And graduate of The Dale Carnegie School for Public Speaking.
Brenda Schweda, of Palatine, is an accountant at a financial management company based in Evanston. She is passionate about partnering with inspired entrepreneurs to help them realize their dreams. There is more to her than her career, and when she is not working she keeps busy as a mother of two. In 2014, her oldest child came out as transgender. This event created another passion, advocacy. Watching as her child experienced discrimination for being who she is, a fire was lit. Driven by the desire to help her daughter, she became active in her community. She looks forward to working with Equality Illinois to effect real change for the LGBTQ community.
Matt Titus resides in his hometown of Charleston, Illinois. He earned a B.A. in Political Science from Valparaiso University in 2008, a B.A. in English and Secondary Education from Eastern Illinois University in 2013, and a M.P.A. from University of Illinois-Springfield in 2015. His research interests include school discipline, juvenile justice, community engagement, and rural planning. In April 2017, Matt was elected to serve his first term on the Charleston Community Unit School District #1 Board of Education. In 2016, he served as campaign manager for Citizens for Coles County Schools, a local group of public school advocates who fought successfully to pass a 1% sales tax referendum for school facilities. Matt worked as a program coordinator for two years with Illinois Correctional Industries, a work training program that offers incarcerated individuals the chance to earn certifications and apprenticeships that connect them to careers upon release. He's excited to work with Equality Illinois' Community Advisory Group and advance the cause of LGBTQA+ acceptance and inclusion in rural Illinois. Matt is an avid fan of the St. Louis Cardinals and the television series The West Wing.
Page updated October 11, 2017