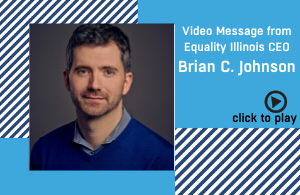 The health and economic impacts of the COVID-19 pandemic will disproportionately impact LGBTQ people.
Going into our current crisis, LGBTQ people were at greater risk of being harmed by the impacts of the COVID-19 in a number of ways, including:
The LGBTQ community experiences greater health challenges than the straight/cis community. A review of literature by the Kaiser Family Foundation found that "LGBT people experience worse physical health compared to their heterosexual and non-transgender counterparts" (May 2018).
The LGBTQ community experiences poverty at higher rates than the straight/cis community. According to the Williams Institute at the UCLA School of Law, "LGBT people collectively have a poverty rate of 21.6%, which is much higher than the rate for cisgender straight people of 15.7%. Among LGBT people, transgender people have especially high rates of poverty—29.4%" (October 2019).
The LGBTQ community experiences employment insecurity at higher rates than the straight/cis community. A survey conducted by Civic Science in conjunction with the National Gay and Lesbian Taskforce estimated that unemployment among the LGBTQ community was 4 points higher than the straight/cis community.
A broad group of allied partners has put together resources and programs to respond to this crisis – here's what LGBTQ Illinoisans should know.
Our partners at Howard Brown Health have put together a tremendous resource for the LGBTQ community on COVID-19 that can be accessed here (https://howardbrown.org/coronavirus-faq/). For questions related to the basics of the Coronavirus, to updates from the City of Chicago and the State of Illinois, to guidance for people living with HIV, refer to the Howard Brown FAQ.
The State of Illinois has put out a helpful website outlining our collective response to COVID-19. For the latest updates, please regularly check out this website.
Our partners who provide direct health services continue to tell us, "Our Doors Are Open." For those who have questions or who may be impacted more directly by COVID-19, we encourage you to check out the following resources from our partners:
Howard Brown Health
Planned Parenthood of Illinois
Chicago House & Social Services Agency
Test Positive Awareness Network (TPAN)
Brave Space Alliance (BSA) South Side Food Crisis
LGBTQ and Allied Illinoisans can join Equality Illinois in collectively supporting one another and our broader communities.
As the statewide LGBTQ civil rights organization, we at Equality Illinois take our role in supporting our community seriously. We have already cancelled all our public events through early May and will be evaluating our Pride month activities in the upcoming weeks consistent with state guidance.
But there is more we can do together.
First, now more than ever, we need your advocacy to ensure that the LGBTQ community in Illinois has the support it needs to weather this and other crises. From the comfort of your living room (where we know many of you are spending a lot of time), you can
Urge your State Representative to pass the Healthy Workplace Act. Many Illinoisans do not have access to paid sick leave. This bill will guarantee paid sick days for all Illinois workers and their families, including chosen families. That is why now, more than ever, we need you to tell your state representative to support the Healthy Workplace Act.
Complete your 2020 Census form ASAP! The Census is conducted only once every ten years and is critical to ensuring our state – and our communities – get the federal resources we need. Click here to access the official Census 2020 page and fill out your Census form.
Second, many of our small businesses will be dramatically impacted by the upcoming downturn. If you are able to support local LGBTQ owned businesses remotely (e.g. ordering takeout, online shopping), consider doing so. The LGBT Chamber of Commerce of Illinois has a directory of LGBTQ owned and run businesses you can review. Your support of LGBTQ owned businesses will go a long way to keep our community thriving during this time.
Finally, because our community is more at-risk for the impacts of this pandemic than the straight/cis community, we urge Equality Illinois stakeholders to donate directly to efforts to help the most vulnerable among us. We wish to illustrate that the LGBTQ community and our allies will step up to help. We have established the following giving site to collect donations, 100% of which will be given to the COVID-19 Response Fund established by the City of Chicago, United Way of Metro Chicago, and the Chicago Community Trust. This Response Fund will fund local organizations and non-profits who serve our city's most vulnerable during this time. By giving to this fund, you ensure your dollars go to highly vetted organizations who are best positioned to meet the needs of our stakeholders. By giving through our donation page, you help signal that the LGBTQ community of Chicago is taking the lead and doing our part. We are communicating with leaders throughout the state to find other similar response funds in other parts of Illinois.
A Note of Gratitude:
Finally, all of us at Equality Illinois (our Board and Staff) want to thank each and every one of you. Your generosity and commitment to our work together over the years positioned us to confidently and nimbly respond to our community's greatest challenges like this one. Whether it is fighting for our equitable treatment in Illinois law, or beating back hateful legislation, or promoting LGBTQ public leaders, or supporting our most vulnerable during difficult times; you are the backbone of our work.
Thank you for all you have done, for all you do, and for all you continue to do.