Issues
Adoption
GROWING YOUR FAMILY:
A GUIDE FOR PROSPECTIVE LGBT ADOPTIVE PARENTS

Growing your family is an incredible experience, and all of us at Equality Illinois are so excited for you!

According to United States Census data for the state of Illinois, there are over 34,000 same-sex couples in long-term relationships living across the state, and 21 percent of these couples are raising children. Many same-sex couples, as well as single LGBT individuals, become parents through adoption or foster care.

While the journey for adoptive and foster parents can be long and sometimes challenging, Equality Illinois is committed to helping you understand and navigate your legal rights. We hope that this guide will help you along this exciting journey!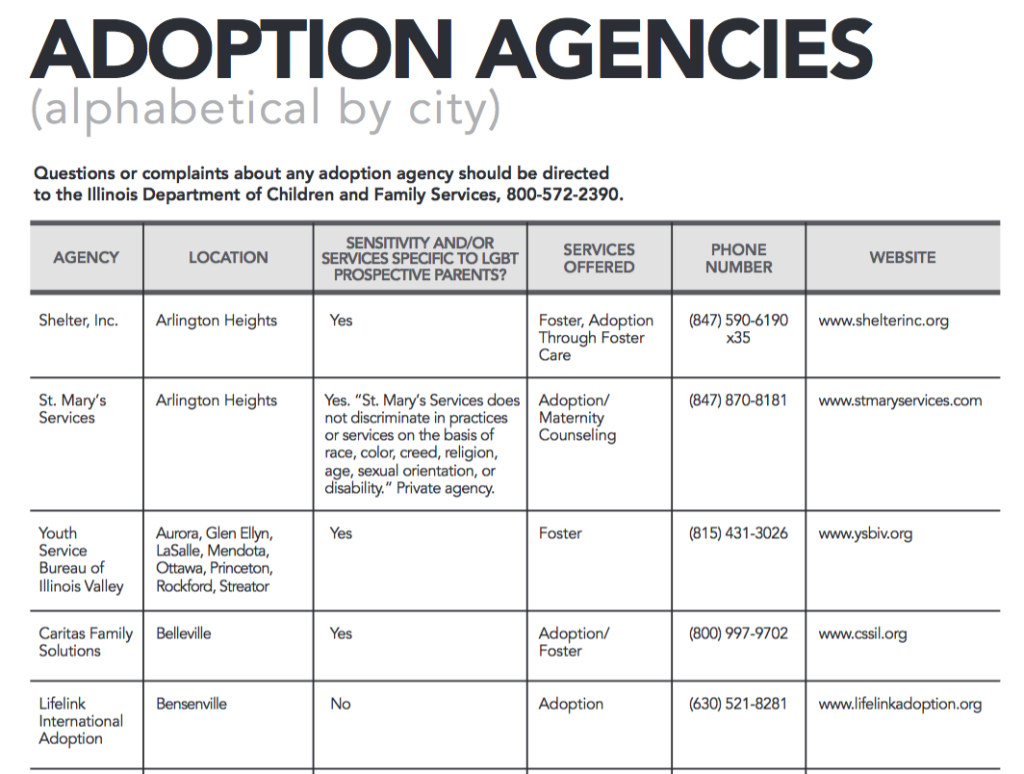 Growing Your Family: A Guide for Prospective LGBT Adoptive Parents contains an overview of adoption law and some topics for your consideration. The downloadable PDF version of the guide also includes a list of adoption and foster agencies in Illinois and their stated policies toward same-sex couples and LGBT individuals.

We determined each agency's policy through either their published statement or with direct communication with agency spokespeople. In some cases, Equality Illinois was unable to ascertain the agency's policy and we have noted this in our guide.

We intend this guide to serve as a compilation of resources to help you make the best choices for your family. However, please note that this is not a list of Equality Illinois' recommended agencies. We cannot vouch for the services these agencies offer and do not make qualitative statements regarding any of the agencies.

Under Illinois law, adoption and foster care decisions are made based on that which is in the best interest of the child. While many factors go into consideration of this standard, prospective parent(s)' sexual orientation and marital status are not to be considered against the prospective parent(s). Please know that any agency that receives public funds cannot deny you service because you are LGBT or because of your civil union or marriage status.

We wish you success in your journey to become a foster or adoptive parent(s)!

TO GROW OR NOT TO GROW
The decision to expand your family is a big one. In addition to the legal issues and concerns that arise, it requires a great deal of self-reflection and examination. As you begin the adoption process, here are a few things to keep in mind:

• Adoption can be a satisfying and successful means of forming a family, but it is different than parenting a child you are biologically related to. Accepting the difference, and being open to seeing how it unfolds in the family you create and the relationship you have with your child are the keys to successful adoption.

• Ask yourself tough questions, and be able to answer them honestly. The adoption process can be arduous and even intrusive. A lot of people may be asking you for very personal information, and self-reflection can go a long way. The more you process your own thoughts, feelings and emotions, the better you will be able to communicate them out to those looking for details. Additionally, self-reflection can help you learn what you want out of expanding your family, and how to make that happen.

• If you're looking to expand your family with a partner, keep the lines of communication open and honest. Your relationship is an important part of your extended family, and keeping that connection solid will not only help ease the stress associated with the adoption process, but help you create the family you want.

• The adoption process is long, and it may be complicated. Be prepared to handle the stress in healthy ways, and to seek help along the way. There are myriad resources available to LGBT individuals and couples looking to expand their families via adoption, beyond the legal considerations. Individual, couple and family therapy can help you manage the challenges and opportunities that arise.

As you begin to navigate the process of expanding your family, remember not to lose sight of yourself, your relationship and your ultimate goal: to create a warm, loving family and a whole new chapter of your life.

(Content of "To Grow or Not To Grow" section courtesy of The Family Institute at Northwestern University. www.family-institute.org)

ADOPTION LAW IN ILLINOIS
Since the adoption process is not governed by any single set of national laws and guidelines, it is best to work with an agency that knows the laws for your state and can help you navigate them.
Here are some aspects of Illinois adoption law:

• Birthmothers cannot sign the legal paperwork consenting to an adoption prior to 72 hours after the baby's birth. They may, however, take longer than 72 hours to make this decision if they choose.

• A new mom considering adoption for her baby has the same legal rights as any other mother: the right to privacy; the right to name the baby; the right to choose circumcision for a male baby, as well as make decisions on any other medical procedures. She also has the right to make her own decision without undue pressure from others.

• The decision to relinquish parental rights and consent to an adoption is final and irrevocable when signed. Birthparents cannot regain their parental rights to the child unless their consent was obtained by fraud or duress. Fraud involves intentional deception about a significant fact. Duress exists when a person is prevented from exercising his or her free will.

• A minor does not need his or her parents' permission to sign a consent to adoption.

• A final order of adoption is granted by the court six months after the baby's placement into an adoptive home, at which time a new birth certificate is issued with the adoptive parents' names. This period is for evaluation of the adoptive family and is not a time that the birthparents can use to change their minds and request the baby be returned.

(Content of the "Adoption Law in Illinois section courtesy of The Cradle. www.cradle.org)

LGBT-SPECIFIC LEGAL INFORMATION

Who can adopt in Illinois?
The prospective parent(s) must be 18 or older. If you are married or are in a civil union, your spouse or partner must adopt with you.

Can LGBT persons adopt?
Yes, LGBT single persons and same-sex couples can adopt. Illinois has recognized the right to adopt for LGBT couples and singles since 1995.

Can same-gender couples adopt internationally?
We know of no countries active in international adoption that will knowingly place a child with a same-gender couple. Same gender couples will be required to adopt as single parents when they pursue an international adoption, and then seek a second-parent adoption for the other parent when they return to Illinois.

If a couple enters into a civil union or marriage, do they still have to do a second parent adoption?
Your child will be recognized in Illinois as the child of both of you. However, it is recommended that you complete a second parent adoption in order to have your parentage recognized in other states.

Does having a civil union or marriage change the adoption process in any way?
Yes, in a second parent adoption, the process for couples in a civil union or marriage is streamlined and less expensive than if the parents are not a civil union or marriage. This means no criminal background check, no fingerprinting, no legal publication to all whom it may concern, and no search of the putative father registry.

Are there other significant issues affecting family formation for LGBT individuals?
Same-gender surrogate parents must comply with the requirements of the Illinois Gestational Surrogacy Act in order to have both parents recognized as the legal parents of a child born to a surrogate.

(Content of the "LGBT-Specific Legal Information" section courtesy of Rosemary S. Mulryan, Esq. www.mulryanandyork.com)

DOMESTIC ADOPTION PROCESS
There are several steps in the domestic adoption process. Each agency is different, but follow these steps to get a general idea of what you will need to do:

1. Attend a general adoption information session at an agency.
Meetings can provide an overview of adoption programs, introduce you to open adoption (for domestic adoption), and include an opportunity for questions.

2. Complete and return preliminary paperwork
Note: Some agencies require a registration fee.

3. Initial consultation with adoption counselor. Meet with a personal adoption counselor who will discuss your interest in adoption.

4. Home study process.
The home study consists of a series of couple and/or individual interviews with your counselor, selecting the adoption program that is right for you, home visits, paperwork, and a series of educational classes that will prepare you for welcoming a child into your home. Your counselor will work closely with you throughout your preparation process. A home study is the legal document required for licensure as a foster parent in the state of Illinois. It documents the backgrounds, lifestyles, home setting and medical history of an adoptive family. A home study also includes a background check and fingerprinting. When you adopt through an agency, a foster parent license is required. A home study is made up of the following parts: – fingerprints – criminal background check – state child abuse and neglect clearance – medical history – a series of interviews with an adoption counselor designed to get to know you and educate you about adoption – autobiography – references – home visit.

5. Create your "Dear Birthparent" letter to introduce your family to potential birthparents.
You may write a letter to prospective birthparents, including photos of yourselves, family and friends. The letter is your first introduction to birthparents and will help them to understand a little about what it would be like for their child to live with your family. Your "Dear Birthparent" letter will be shown to birthparents who are considering adoption.

6. Match meeting.
Expectant parents who are considering placing a child and prospective adoptive parents may meet to determine if they want to work together toward an open adoption.

7. Placement. Hooray!
Your family at last grows, and your child comes home.

8. Post-placement follow-up and support.
Agencies are meant to serve as a source of support before and after you bring your baby home. You should seek an agency that encourages you to stay connected to their services after placement.

(Content of the section "Domestic Adoption Process" courtesy of The Cradle.
www.cradle.org.)

WHAT IS OPEN ADOPTION?
Most domestic adoptions in the US today involve some sort of interaction between the birth and adoptive parents. Some agencies allow birth parents to select the adoptive parents for their child from a pool of pre-screened candidates. The birth and adoptive families may meet and can even arrange to stay in contact after placement of the child. This is called open adoption.

Experience with open adoption has shown the following benefits for all members of the adoption circle:

Open adoption benefits for the child:

• A clearer sense of identity

• Understanding they are loved by their birth family and why they chose adoption

• Ready access to information about their medical and social history

• Access to biological siblings, if there are any

Open adoption benefits for adoptive parents:

• Knowledge that birthparents chose adoption freely and willingly

• A feeling of entitlement and being personally entrusted to raise the child

• Dissolution of fantasies about birthparents or fear of the unknown

• Greater ability to answer the child's questions about his or her origins

• Ongoing access to birthparents' medical and social histories

Open adoption benefits for birthparents:

• An opportunity to personally answer their birth child's questions about his or her adoption

• Reassurance of knowing the child is safe and thriving

(Content of the section "What is Open Adoption?" courtesy of The Cradle.
www.cradle.org.)

FREQUENTLY ASKED QUESTIONS

What are the adoption paths in Illinois?
Adoptions fall into 3 broad categories:

• Unrelated-agency placement or independent placement of an unrelated child

• Related or second parent adoptions

• Foster family conversion – adoption of a child through the child welfare system (DCFS)

How long will the adoption process take?
Timeframes in adoption are difficult to predict and vary from family to family. Timeframes will be dependent on the program and agency you choose, and there are no guaranteed placement dates. Some of the timing in the process is under your control as an adoptive parent: how motivated & available you are, how quickly you get paperwork back to your agency, and how flexible you are in your request for a child all will impact your timeframe in adoption. Consider asking potential agencies about the number of children they place, the number of waiting families, and average wait times, while keeping in mind that no reputable agency can guarantee a specific placement date.

Why are adoption fees from a non-profit agency so high?
Fees cover a range of services to all members of the adoption circle (birthparents, adoptive parents as well as adopted individuals) as well as to those who explore adoption but then ultimately choose not to place their child. Your chosen agency will prepare you as adoptive parents for this experience through counseling and education. Expectant parent services include counseling, medical expenses and nursery care. Agencies may also provide extensive educational and outreach services to the professional community to ensure that they give their clients and patients accurate information about the option of adoption.

Are there financial assistance programs?
The federal government offers a refundable Adoption Tax Credit, which may cover all or some of your adoption-related costs.

Many employers also offer adoption assistance to their employees to help cover some of the costs. Check with your employer if such benefit is available to you.

Does our age have an effect on our waiting time in the domestic program?
The average age for our adoptive parents across programs is 40. There are lots of factors that birthparents consider when thinking about the family they'd like to place with. Age can sometimes be a factor.

Can we decide the amount of openness we want?
The specifics of an open adoption are different for every family. As parents of your adopted child, you can develop an ongoing plan that you are comfortable with. The open relationship is going to be different for every situation and will depend on what you are looking for in that relationship as well as what the birthparents are looking for.

(Content of the section "Frequently Asked Questions" courtesy of The Cradle.
www.cradle.org.)


ADOPTION AGENCIES
A comprehensive listing of adoption agencies throughout Illinois listed by city and compiled by Equality Illinois includes contact information, websites, and whether there is sensitivity and/or services specific to LGBT prospective parents.

FIND THE LISTING IN THE DOWNLOADABLE VERSION OF "A GUIDE FOR LGBT PROSPECTIVE PARENTS" beginning on page 10

Questions or complaints about any adoption agency should be directed
to the Illinois Department of Children and Family Services, 800-572-2390