Issues
Resources
Employer Best Practices: Equality Illinois' Corporate Responsibility Project aims to provide every business operating in Illinois with best industry practices to foster an environment of inclusion and support for all employees.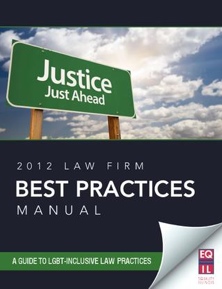 The Law Firm Best Practices Manual is a comprehensive 44-page guide to building LGBT-inclusive law practices. Read and download the guide here.
Raising the Bar: The annual Equality Illinois Raising the Bar publication highlights law firms with an exceptional commitment to their LGBT attorneys and staff as well as their engagement with the LGBT community at large. Read Raising the Bar and the factors that earned the law firms top recognition here.
Out and Equal Training: As laws change, it is important for employers to be informed about LGBT issues. If you are interested in fostering a safe and welcoming environment for your employees, there are resources available to guide you through that process. Also, it is important to be aware of the details of legal issues dealing with workplace discrimination.
Find resources at Out and Equal Workplace Advocates, a national organization dedicated to safe and equitable employment for LGBT Americans.
Illinois Department of Human Rights: Illinois Department of Human Rights can assist you in filing a claim of discrimination. For most cases, a claim must be filed within 180 days of the alleged incident; a full year is allowed for housing cases.
You will need to provide current contact information for yourself, the organization/person alleged to have discriminated against you, and any witnesses. You must also provide the date of the most recent incident and any supporting documents.
To learn more about the requirements of the Illinois Human Rights Act or to file an employment discrimination complaint, visit the Illinois Department of Human Rights website. (En Español.)

"Know Your Rights" Employment Pamphlet
Much of this information is in the Equality Illinois "Know Your Rights" pamphlet. You can make your own 3-fold pamphlets for personal use or multiple copies for your organization. You can see and download it HERE.