Identify welcoming congregations;
Build stronger relationships with communities of faith who share our interest in issues of justice and fairness;
Emphasize the positive relationship between religion and equality for all versus the persistent misconception that the majority of faith communities oppose equality for LGBTQ people.

"Equality In Your Faith Community: A Guide to LGBT-Inclusive Religious Practices" is a comprehensive compilation of contributions from faith communities across Illinois and is designed to share best practices based on real experience and grassroots learning. Some communities of faith already practice these thoughtful and creative ways to show their support, and some are looking for ways to further their inclusion and deepen their welcome. Many are seeking a way to become a welcoming and affirming community through and through. We trust this guide will serve the needs of all communities of faith regardless of where they are in their inclusive journey. This comprehensive guide can be read and downloaded here.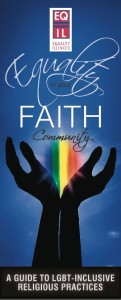 If you would like to see a condensed version of this guide, please download the companion brochure (pictured left) EQIL Equality in Your Faith Community, which you can print and share with your community of faith!
---
THE RELIGIOUS CASE FOR THE FREEDOM TO MARRY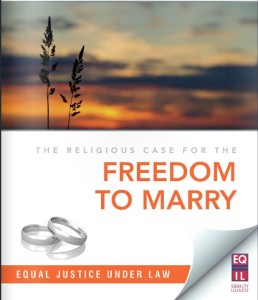 Thanks to Equality Illinois' sustained outreach, faith leaders throughout the state declared support for the freedom to marry and were instrumental in the successful passage of the Religious Freedom and Marriage Fairness Act. To counter the opponents' voices, Equality Illinois printed  The Religious Case for the Freedom to Marry and built a broad and multi-denominational faith coalition:
-More than 300 clergy from throughout Illinois signed "An Open Letter from Illinois Clergy and Faith Leaders on Marriage,"
-Rev. Dr. Otis Moss III, senior pastor of Trinity United Church of Christ, Chicago, and Rev. Dr. B. Herbert Martin of the Progressive Community Church of Chicago and 22 other clergy circulated a letter to African-American faithful,
-The Evangelical Lutheran Church of America Metropolitan Chicago Synod passed a resolution, and
-The bishops of the Episcopal Diocese of Chicago, the Evangelical Lutheran Church of America – Metropolitan Chicago Synod, and the Northern Illinois Conference of the United Methodist Church issued statements in support of the freedom to marry.LGBT SUPPORTIVE RELIGIOUS OFFICIANTS