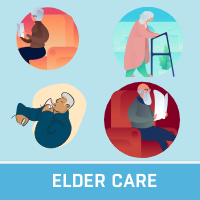 Our LGBTQ elders are at higher risk of developing serious COVID-19 illness. LGBTQ elders, many from the "Stonewall Generation," survived decades of historic repression, trauma and epidemic, coupled with the loss of peers during the AIDS crisis, means LGBTQ seniors are particularly vulnerable to isolation and loneliness.
COMMUNITY RESOURCES
SAGE Advocacy and Service for LGBTQ Elders
SAGE has a hotline that provides information and peer-support 24/7 in English and Spanish. 1-877-360-LGBT(5428)
The Care Plan
The Care Plan has a hotline that ptovides advice and resources- 1-877-6WE-PLAN
Please let us know any helpful resources that you find by clicking our "Share With Us" button.