Three new LGBT equality laws that were Equality Illinois' legislative priorities in 2015 are in effect as of January 1, 2016: A ban on "conversion therapy," enhanced hates crimes protections, and protecting gender identity at the end of life.

• "Conversion Therapy" Ban: The Illinois Youth Mental Health Protection Act protects LGBT youth from dangerous and discredited "conversion therapy." This law was Equality Illinois' primary initiative during the 2015 legislative session. Medical and mental health organizations recognize that "conversion therapy" efforts are extremely harmful to the physical and mental well-being of young people.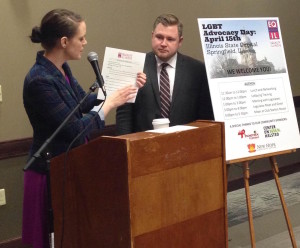 The law protects LGBT youth by prohibiting licensed mental health providers from engaging in "conversion therapy" with minors. Licensed professionals who violate the law are subject to discipline by the appropriate licensing and regulatory entity of the State of Illinois.
Also, the Illinois law is the first in the nation to ensure that no person or entity, in the conduct of trade or commerce, may offer "conversion therapy" services in a manner that represents homosexuality as a mental disease, disorder, or illness. To do so constitutes a violation of the state's Consumer Fraud and Deceptive Business Practices Act.
• Hate Crimes Protections: Authored by Equality Illinois and one of our priorities during the spring legislative session, this new law specifically names gender identity as a protected category in the state's hate crimes statutes. The new law also extends hate crimes protections to community centers that may be targeted for institutional vandalism because of sexual orientation or gender identity status. The Anti-Defamation League partnered with Equality Illinois to advocate for the measure.
The existing hate crimes law, signed in 1990 by Gov. James Thompson, included sexual orientation as a protected category, which had been interpreted to include gender identity.
• Gender Identity in Funeral and Burial Instructions: Under this new law, a person may designate his or her gender identity in funeral and burial instructions. With this law, transgender Illinoisans have solace that their last wishes will be respected.
Such instructions may include, but are not limited to, appearance, chosen name, and preferred pronouns. The individual may make such instructions regardless of whether he or she has obtained a court-ordered name change, changed the gender marker on any identification documents, or underwent any transition-related medical treatment. These instructions must be faithfully carried out by the person authorized to control the disposition of the decedent's remains and by funeral homes.