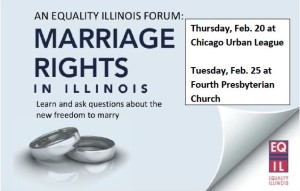 Attend an Equality Illinois Marriage Forum this month at the Chicago Urban League and Fourth Presbyterian Church of Chicago.
The forums are aimed at educating the public about SB10, the Religious Freedom and Marriage Fairness Act, and dispelling myths and empowering same-sex couples and their families to understand and use all their state and federal marriage rights.
Learn more and register at:
>Thurs., Feb. 20, 6 pm, Chicago Urban League, 4510 S. Michigan Ave. CLICK HERE.
>Tues., Feb. 25, 7 pm, Fourth Presbyterian Church, 126 E. Chestnut St. CLICK HERE.