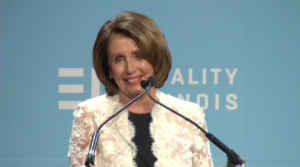 One week ago tonight – U.S. House Democratic Leader Nancy Pelosi accepted the Equality Illinois 2016 Freedom Award at our 25th Anniversary Gala in the Hilton Chicago Hotel.
Her full acceptance speech and other moments during the Equality Illinois Jubilee Gala, including the recognition given the Mariano's grocery chain with the 2016 Equality Illinois Business Leadership Award, can be seen on our YouTube channel.
Relive this wonderful evening.