UPDATED INFORMATION COMING SOON
Equality Illinois was founded in 1991 as the Illinois Federation for Human Rights to secure, protect and defend the basic civil rights of gay, lesbian, bisexual, queer and questioning transgender (LGBTQ+) Illinoisans. The founders of the Chicago-based organization were activists Arthur Johnston , Rick Garcia and the late Jon Henri Damski and Lana Hostetler, who had played key roles in the 1988 passage of Chicago's Human Rights Ordinance. The name was changed to Equality Illinois in 2000, and the organization has grown to become the state's oldest, largest, and most effective LGBTQ+ equality organization.
In 2000, we also created the Equality Illinois Education Project, our 501(c)(3) arm, to focus on the educational and charitable aspects of the mission. The name of the 501(c)(3) was changed to Equality Illinois Institute in 2016 to better reflect our role engaging and educating the public, government and private establishments about equality. Our work continues through conferences in Chicago and Central Illinois, publications and training sessions, plus contributing an LGBTQ+ voice to the broader conversations on racial equality and social justice.
A third related organization, the Equality Illinois Political Action Committee, was formed to promote candidates for public office who will advocate for and support legislation that advances full equality for lesbian, gay, bisexual, transgender, queer and questioning individuals and families. It is a nonpartisan PAC that supports candidates of any sexual orientation.
When Equality Illinois was inducted into the Chicago Gay and Lesbian Hall of Fame in 2005,  the citation stated: "Equality Illinois has grown into one of the Midwest's strongest sexual-minority civil rights organizations." In fact, today Equality Illinois is the largest statewide LGBTQ+ equality organization in the Midwest.
Equality Illinois initiatives traverse every facet of life, reaching individuals and organizations both within the LGBTQ+ community and throughout the general public, across the private, public, and nonprofit sectors. In the last years alone, together with our allies, we:
• Made history by passing the Religious Freedom and Marriage Fairness Act out of the Illinois General Assembly and onto Gov. Pat Quinn's desk, making Illinois the 16th state to secure our freedom to marry.
• Traveled across the state to collect over 30,000 postcards from supporters urging their legislators to support the marriage bill in all 118 state legislative districts.
• Engaged hundreds of new voters and ensured accurate voter registration during each election cycle.
• Built a successful campaign to protect LGBTQ+ youth by supporting the Youth Mental Health Protection Act that banned ineffective and dangerous conversion therapy.
• Led a winning effort to update the Illinois Hate Crimes Act, including the first explicit inclusion of crimes against transgender people and protections for LGBTQ+ community centers.
• Built broad coalitions with students, clergy, labor unions, non-LGBTQ+ focused community and advocacy groups, small businesses as well as racial, immigrant and economic justice organizations.
• Unveiled a comprehensive Know Your Rights educational program to educate the LGBTQ+ community about its rights and responsibilities under state and federal laws.
• Launched a new financial literacy initiative to educate key demographics within the LGBTQ+ community about personal financial matters.
• Worked with Illinois' Congressional delegation to fortify support for federal pro-LGBTQ+ equality measures, including the Equality Act, the first comprehensive LGBTQ+ civil rights bill introduced in Congress.
• Created the Out + About: Good Business Network to encourage businesses to create a welcoming environment for LGBTQ employees and customers.
Among our most prominent earlier accomplishments, Equality Illinois achieved a benchmark victory in 2005 with the passage of an amendment adding sexual orientation and gender identity to the Illinois Human Rights Act, which prohibits discrimination based on sexual orientation and gender identity in housing, employment and public accommodations – making Illinois among the early states to include both categories. In 2000, Equality Illinois successfully educated, organized, and lobbied to ensure the passage of the Hate Crimes Act.
Equality Illinois was also instrumental in securing passage of the civil union law in Illinois in 2010, which was a major step on the road to securing marriage equality in 2013. A landmark Equality Illinois study of civil unions, often cited during the debate on the marriage bill, found that civil unions created a second-class status for couples that was misunderstood and did not result in the promised equality.
Additional past accomplishments include: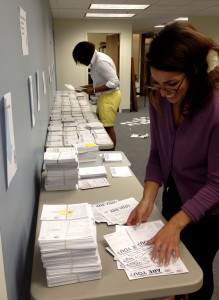 • Creating the innovative Vote Naked campaign, we distributed over 550,000 mail-in ballot requests and helped voters take advantage of a new law which allows voting by mail for any reason. Over 70,000 voters voted by mail in Chicago and Cook County alone.
• Following Vote Naked, created the Get Your V Card campaign to encourage voter registration and participation.
• Working with local communities throughout the state to pass local nondiscrimination ordinances in Cook County and cities such as Springfield, Decatur, Bloomington, Normal and Peoria.
• Educating and informing the citizens of Illinois to raise awareness of issues confronting LGBTQ+ individuals in the community and the workplace.
• Registering thousands of new Illinois voters, and developing a strong network of over 50,000 human rights supporters throughout the state.
• Expanding statewide grassroots support for LGBTQ+ issues and initiatives, both on our own and in partnership with faith-based and other community organizations.
• Targeting education and services to populations that have been disenfranchised, especially women, transgender people, people of color, and youth.
• Assisting businesses in developing non-discrimination policies and same-sex partner benefits for employees.
• Conducting polls and surveys of public attitudes on civil rights issues.
• Working to educate the media and encourage public discussion of LGBTQ equality issues.
The Equality Illinois Education Project enjoys the support of prominent business, civic, civil rights, legislative, and religious organizations and individuals, as well as a host of corporate allies.
Equality Illinois and the Equality Illinois Institute draw support from all areas of the state. Over 40,000 people have either donated or participated in our public education campaigns. Thousands more throughout the state have been impacted by our work. Equality Illinois remains committed to expanding its membership and ally demographics by reaching out to more women, youth, and minority groups to better represent the entire spectrum of the LGBTQ+ community.